March 24, 2017
DAI presented three papers at the annual World Bank Land and Poverty Conference this week in Washington, D.C. The Land Tenure and Property Rights team shared key lessons learned on the use of public-private partnerships in land administration in Cabo Verde, the challenges of large-scale rural land certification and administration in Ethiopia, and the impact of infrastructure investments on land and livelihoods in Ghana.
One of the leading international events on land governance, the Land and Poverty Conference brought together 1,200 participants from government, academia, civil society, and the private sector to discuss the latest theories, best practices, and innovations for land tenure reform from around the world. Titled "Responsible Land Governance: Towards an Evidence-Based Approach," this year's meeting focused on the role of data and evidence in implementing land policy reform. Conference sessions covered a variety of topics related to this theme, from the use of drones and mobile mapping apps in surveying, to improving the involvement of women and marginalized populations in land use planning.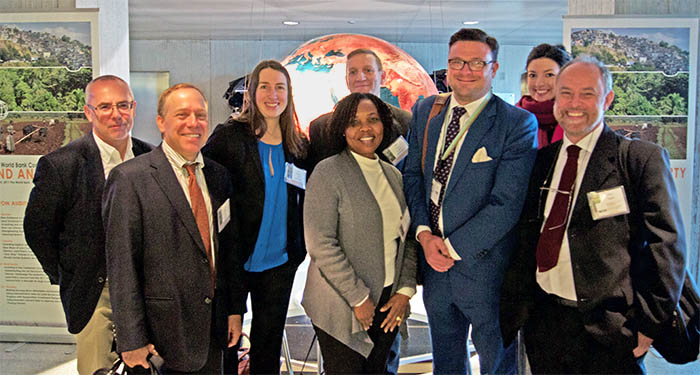 Conference attendees and presenters from DAI include, from left, Andy Smith, Ian Rose, Ann Kinsley, Bernice Sam, John Maris, John Leckie, Felicity Buckle, and Clive English.
Bernice Sam, Dialogue Leader with the Ghana Western Region Coastal Foundation, implemented by DAI and funded by the U.K. Department for International Development (DFID), presented on the effects of new oil and gas infrastructure projects on the land and livelihoods of Ghanaians, and discussed the program's collaborative approach to corporate sustainability. "People may be afraid that if they sell their land they will lose their livelihoods," said Sam. "That's why we bring industry, community, and government together to create a space to air different views, inform planning, and fulfill the needs of people affected by change."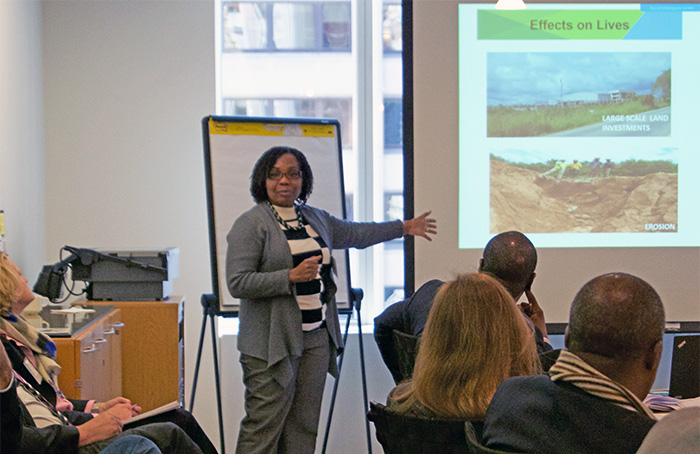 Bernice Sam presents on the effects of oil and gas infrastructure projects on land and livelihoods in Ghana.
The conference also offered a valuable opportunity for the DAI team to learn about the challenges and successes of other land tenure programs around the world. "This year's discussions helped to validate the work we've been doing in our projects in Africa to address how constraints to the land market negatively affect poor land holders," said DAI's John Leckie. "It's inspiring to see more attendees at the conference every year and to see land administration issues approached from such a wide range of perspectives."
To further share our learning in land tenure and administration programs, a special issue of DAI's Developing Alternatives journal on Making Land Rights Real was published to coincide with the conference.
DAI works across all types of tenure systems—customary, private, and public—to strengthen the security and rights of land holders through institutional reforms and local capacity building.
In addition to the three projects presented at the conference, DAI currently implements land programs in Malawi and Tanzania, and in the past has led land and property right projects for DFID, the Millennium Challenge Corporation, the European Union, and the U.S. Agency for International Development in countries including Sierra Leone, Rwanda, and Mozambique.