September 26, 2018
DAI Global Health will have a big presence at this year's 5th Global Symposium on Health Systems Research in Liverpool, United Kingdom, by participating in three panels, co-hosting a reception with affiliate IntraHealth International, hosting a skills-building satellite session, presenting two posters, and hosting an exhibition booth.
The Global Symposium on Health Systems Research is organized every two years by Health Systems Global to bring together the full range of actors dedicated to strengthening health systems and building the field of health systems research. This year's theme is advancing health systems for all in the Sustainable Development Goals era.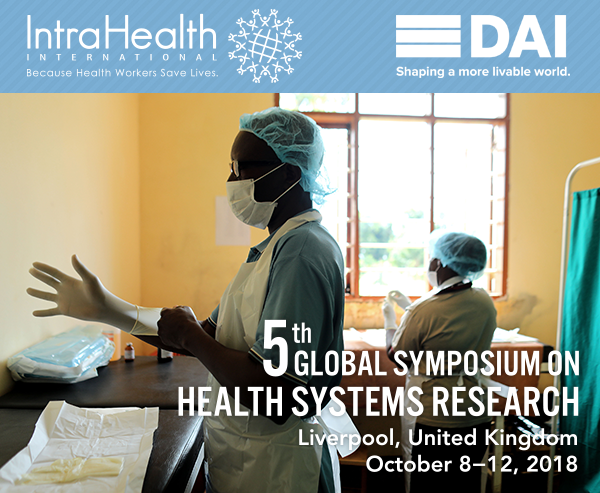 Monday, October 8
DAI Global Health is hosting a One Health simulation to build skills in multisectoral coordination for preparedness and response to public health threats. Facilitated by DAI's Jeff Mecaskey, Susan Scribner, Miniratu Soyoola, and Paula Quigley, this session provides a practical opportunity for participation and learning on evidence related to advancing One Health and sustainable multisectoral coordination in practice.
Quigley and Eva Rahman will support the facilitation of an IntraHealth-hosted skills-building session, "How to Translate Health Systems Research into Powerful Advocacy Messages, Op-Eds, and Thought Leadership."
Wednesday, October 10
DAI and IntraHealth are co-hosting a reception, "Future-Ready Health Systems: An Interactive Networking Event," at 6 p.m. at the Pullman Liverpool Hotel. The event will be attended by key donor representatives, academics, and representatives from civil society and private sector groups. The event will feature informal roundtable conversations highlighting innovative solutions in areas such as preparedness and response, domestic resource mobilization, gender and the workforce, community health systems, and data for decision-making.
Thursday, October 11
The panel, "Leaving no one behind: how can evidence-based approaches support progress towards universal health coverage and global health goals during conflict and protracted crises?" is aimed at those working in both humanitarian and development roles. DAI's Fatima Adamu, National Programme Manager for the Women for Health programme, funded by the U.K. Department for International Development (DFID), and Campbell Katito, Health Systems Adviser for the DFID-funded South Sudan Health Pooled Fund, will present case studies, highlighting insights and recommendations for better evidence use for longer-term systems strengthening in conflict-affected settings and humanitarian crises.
Mecaskey will deliver opening remarks for the panel, "Of carts and horses: synergising universal health coverage with global health security." Mecaskey will discuss good practice in leveraging investment in global health security, strengthening international health regulation capacity, and advancing universal health coverage.
Friday, October 12
DAI's Andrew McKenzie is chairing the panel, "Primary health care systems that advance the sustainable development goals: Key lessons from 20 country PHC case studies in LMICs." Panelists will discuss and learn from the findings of the 20 primary health care country case studies commissioned by the Alliance for Health Policy and Systems Research, focusing on using a complex adaptive systems lens for systems strengthening, noncommunicable diseases, participatory governance, and private sector engagement. He will also present a poster on community-led advocacy and innovation to strengthen pharmaceutical policy and distribution systems for better drug delivery to people with chronic illnesses in South Africa.
Soyoola will present a poster session, "Building blocks from below: community engagement, social change, health systems, and the Sustainable Development Goals—moving from evidence to scale."
Follow us on Twitter at #DAIGlobalHealth for more updates.