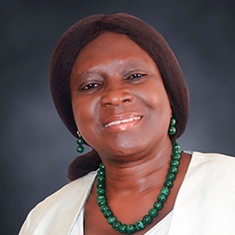 Miniratu Soyoola has more than 20 years of experience in health and social development programme implementation, coordination, and strategy development. She is an expert in social development in health systems strengthening, community health and behaviour change communications, and has worked in Nigeria, Sierra Leone, and Zambia. From 2013 to 2016, Mini was the Programme Director for the U.K. Department for International Development (DFID)'s MORE MAMaZ programme, which aims to increase access to maternal and neonatal health care in Zambia. She provided strategic leadership, oversaw teams in five districts, and a directed a national level administrative, financial, and technical team. She developed strategic partnerships with government stakeholders and provided ongoing strategic capacity building support to the district health management teams. From 2010 to 2012 she was the Social Development and Community Engagement Advisor on the preceding programme, MAMaZ. She was also the Social Development Consultant on the DFID-funded Partnership for Reviving Routine Immunisation in Northern Nigeria and Maternal, Neonatal and Child Health.
M.S., human nutrition, London School of Hygiene and Tropical Medicine
B.S., education, biological sciences, Njala University College, University of Sierra Leone
x
RELATED CONTENT:
Pieter de Ruijter has more than 30 years of experience in health care technology systems development, specialising in the design and development of planning and management software, and the development of computerised management and planning tools.
Read More