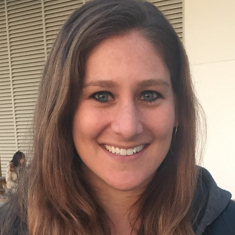 With a consistent focus on the integration of user-centered design in digital development, Talia conducts digital strategic analyses, manages digital projects, and supports the Center for Digital Acceleration in its innovation work, for example by managing the implementation of digital prizes and challenges. She has conducted in-country research on the technology sector and its growth potential in countries such as Nigeria and Cote d'Ivoire. Prior to joining DAI, she focused on the power of innovation and information and communication technology to transform health outcomes, specifically in HIV/AIDS. Talia has experience working in global health for institutions including the USAID Office of HIV/AIDS; the Liberia Ministry of Health; the advocacy wing of the Global Fund to Fight AIDS, Tuberculosis and Malaria; and Grassroots Soccer, where she piloted a project that uses soccer to educate young girls about HIV prevention, gender-based violence, and female empowerment.
Master's in global human development, Georgetown University
B.A., international relations, Emory University
x
RELATED CONTENT:
Nancy Haugh is a Digital Associate at DAI's Center for Digital Acceleration.
Read More