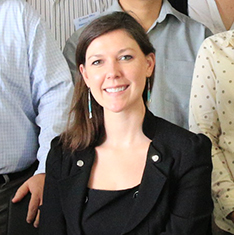 Shannon Vasamsetti has more than 12 years of experience working in international development at the nexus of climate change, rural livelihoods, and natural resource management. As a Specialist in the Climate, Land and Natural Resource practice, she supports project design, activity development and implementation of DAI's environment projects around the world. Shannon joined DAI in 2010 and has held several positions both in the home office in project management and in the field in implementation. Previously Shannon was Deputy Chief of Party for the Mekong Adaptation and Resilience to Climate Change project, where she managed community and ecosystem-based agricultural adaptation and translated climate change projections and impacts for targeted users.
She has worked in Asia, Latin America, and Africa—merging technical and operational duties to improve project management and technical direction. In addition to climate change adaptation, her technical areas of experience include ecosystem valuation, biodiversity conservation, and natural resource management. Shannon leads DAI's private sector observer partnership with the Green Climate Fund and is the technical advisor to USAID/Peru's Prevent project which combats environmental crime as well as USAID/Vietnam's Sustainable Forest Management activity.
M.A., public policy, Lyndon B. Johnson School for Public Affairs, University of Texas
B.A., government, University of Texas
Certificate, Formulating Project Proposals for Low Carbon Climate Resilient Development: Designing Green Climate Fund Projects, University of Twente, the Netherlands
x
RELATED CONTENT:
Darren Saywell has 25 years of experience in practice, research, and policy development in water security, sanitation, and hygiene (WSSH), with a particular focus on solutions in urban environments.
Read More