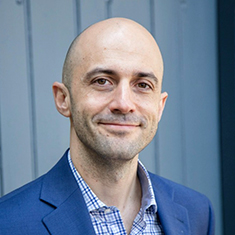 Manuel Bueno is a Climate Finance expert and thought leader with 15 years of climate and impact investment experience in emerging markets. At DAI, he is a Senior Lead for Climate Finance in the Finance, Investment, and Trade Practice. He is responsible for DAI's climate finance activities, including business development, technical advisory, and thought leadership.
As a climate finance professional, Manuel is an expert in rural finance, including pipeline building, investment structuring, and portfolio management of impact investments in agriculture, forestry, fisheries, and manufacturing, and across a broad range of countries in Latin America, West Africa, and Southeast Asia. He has competency in the design and operationalization of climate private finance vehicles and products, including partnering with private and public investors and donors.
Prior to joining DAI, Manuel held leadership positions across several international developing consulting firms. He was Director of Climate Finance at Abt Associates and Director of Innovative Finance at Resonance. Some key accomplishments in those roles include the design of a Climate Agriculture Debt Restructuring Facility, which was selected finalist in the Global Innovation Lab for Climate Finance, the design of an impact investment fund in Brazil to support the sustainable management and restoration of native forests and increased climate resilience of local communities, and the design of a corporate sustainable bond for Caribbean Small Island Developing States to invest in coastal green infrastructure.
Before that, Manuel was a founding partner of a financial intermediary for corporate sustainable debt products. He also co-founded, designed, fundraised, and managed an impact fund in Southeast Asia to support sustainable coastal fisheries. In this role, he also designed the Fund's technical assistance facility, and structured and managed the Fund's debt portfolio guarantee with the USAID Development Credit Authority (DCA), which won DCA's 2017 Deal of the Year Award.
B.A., economics, London School of Economics
Research Master in Business, Tilburg University, Netherlands
x
RELATED CONTENT:
Since joining DAI in 2000, Colleen Green has served as a microfinance specialist providing short-term support to bank downscaling and other programs to benefit micro, small, and medium-sized enterprises.
Read More