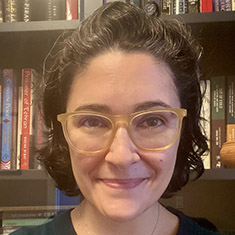 Lindsay North is a Principal Specialist in the Resilience and Stability practice with more than 13 years of experience in design, research, monitoring, evaluation, and learning for peacebuilding, governance, and stabilization programs. Lindsay spent four years in Pakistan working on programs to counter violent extremism before joining DAI, where she has had long-term engagement on peacebuilding, governance, and resilience programming and research in the Caribbean, Kenya, Mozambique, and Nigeria. In Mozambique, Lindsay directed all research, monitoring, evaluation, and learning activities for the Mozambique Community Resilience Program. She brings pivotal expertise in conflict analysis, complexity-aware monitoring, evaluation, and learning; conflict sensitivity; strategic communications; trauma-informed program design; and conducting research in closed and closing spaces. In addition to her experience as an implementer, Lindsay has supported and authored numerous assessments for the U.S. Agency for International Development (USAID) on democracy, governance, stabilization, and extremism in countries across the Middle East and Asia, in addition to designing and supporting training for USAID and State Department officials in democracy, rights, and governance principles and countering violent extremism in West Africa.
B.A., English literature, Trinity College
M.A., international development studies, The Elliott School at George Washington University
x
RELATED CONTENT:
Arthur Carlson is an international development practitioner with 28 years of experience leading complex projects in emergency response, governance, refugee assistance, countering violent extremism, peacebuilding, and institutional system strengthening.
Read More