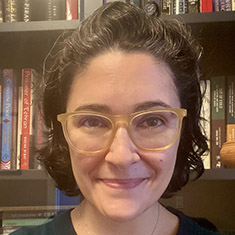 Lindsay North has more than 10 years of experience in design, research, monitoring, evaluation, and learning for conflict, peace, and stabilization programs. Lindsay spent four years in Pakistan, first as the Monitoring Advisor in Pakistan on the USAID/Pakistan Monitoring and Evaluation Support program. In addition to supporting monitoring and evaluation across USAID Pakistan's portfolio of activities, she conducted mixed-methods research on stability and conflict trends in the Federally Administered Tribal Areas and Khyber Pakhtunkhwa provinces. She then joined a DAI-implemented Pakistan project as the Monitoring and Evaluation Manager, overseeing activity design, development, and evaluation for a portfolio of more than 300 small grants. Since then, Lindsay has had long-term roles in preventing and countering violent extremism programs in Kenya and Mozambique. She has expertise in conflict analysis, complexity-aware monitoring, evaluation, and learning; strategic communications; trauma-informed program design; and conducting research in closed and closing spaces.
In addition to her experience as an implementer, Lindsay has supported and authored numerous assessments for USAID on democracy, governance, stabilization, and extremism in countries across the Middle East and Asia, in addition to designing and supporting training for USAID and State Department officials in democracy, rights, and governance principles and countering violent extremism.
B.A., English literature, Trinity College
M.A., international development studies, The Elliott School at George Washington University
x
RELATED CONTENT:
Catherine Baker has more than 10 years of experience in recruitment, business development, and human resource management for programs funded by the U.S. Agency for International Development, Office of Transition Initiatives, and the U.S. State Department.
Read More