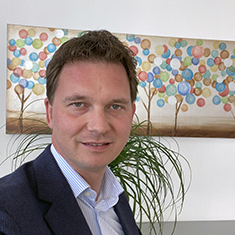 Jakob Zeidler joined the distinguished European consultancy Human Dynamics in 2006 and progressively assumed more responsible roles within the company and its Implementation Department, which he led from 2015 through DAI's acquisition of Human Dynamics in 2019. He was appointed to the leadership of DAI's combined EU Business Unit in 2020.
Jakob was drawn to Human Dynamics' work on public administration reform in the Western Balkans, a topic he was researching in Serbia through a university exchange programme. Following a short stint in business development, he joined the Implementation Department in 2007 and managed numerous projects in the areas of public administration reform, local development, and agriculture, working in Africa, the Middle East, and Eastern Europe. As Head of Department, he and his team of project directors were responsible for, among others, several of the European Commission's flagship projects in the area of climate change in the Middle East and North Africa region, local development in Pakistan, security in West Africa/ECOWAS, and financial sector reform in Ukraine. 
As Vice President of DAI's European Union business, Jakob leads the business unit's integration, growth, and diversification. Based in Vienna, Jakob oversees roughly 100 staff in DAI's corporate offices in Austria, Belgium, Bulgaria, Germany, Serbia, Türkiye, and the United Kingdom.
M.S., international relations, University of Vienna
x
RELATED CONTENT:
Polly Gillingam joined DAI in 2000 and has 25 years of experience in the international development sector.
Read More