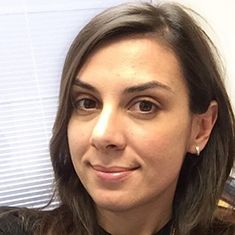 Georgia Iordanescu provides strategic vision and leadership for DAI's global portfolio of clean energy and climate projects, energy sector security, governance, and private sector engagement. She also provides technical support to expand DAI's new business activities and advance thought leadership based on DAI's project tools and results. Georgia drives a holistic approach to transition global systems towards sustainability, resiliency, and equity through her energy expertise and cross-sectoral in-depth knowledge of the climate-energy nexus, energy security, finance, and geopolitics.
As former Director for Energy at Chemonics, she was a core member of the first energy acquisition in the company's history. In less than three years, she helped establish the foundation of the Sustainable Energy Transition technical practice and secure two landmark U.S. Agency for International Development (USAID) programs for the energy sectors in Sri Lanka and Serbia.
Georgia spent more than a decade of her career designing and implementing specialized approaches to increase the availability, access, and use of affordable, reliable, and sustainable clean energy technologies in Sub-Saharan Africa, Eastern Europe, and Asia. She worked at the forefront of implementing high-profile USAID initiatives for the energy sector in Sub-Saharan Africa—the Africa Infrastructure Program and Power Africa Transactions and Reforms Program—demonstrating a distinguished ability to manage tactical and operational activities, utilize technical knowledge to develop technically and commercially feasible energy projects, and structure and negotiate ground-breaking mechanisms that bolstered energy sector investment and innovation. As transaction advisor in Nigeria, she led the implementation of Power Africa's goal to lower the cost of electricity and helped achieve financial close on Azura-Edo, an $850 million independent power project in the country.
As a Hitachi Research Institute Fellow in Japan, she advised on environmental sustainability policies and market entry strategies for renewable energy technologies.
M.A., law and diplomacy, Fletcher School at Tufts University
LL.M., banking and financial law, Boston University School of Law
x
RELATED CONTENT:
Kevin Carlucci is a development professional with more than 20 years of experience across a diverse set of disciplines, including finance, natural resource management, economic policy reform, and emerging market economic development.
Read More