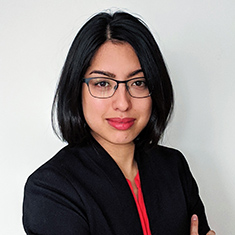 Dipika Chawla is a Principal Specialist with DAI's Sustainable Business Group, where she provides technical advisory services to multinational corporations regarding corporate social responsibility strategies; corporate foundation strategies; social investment program design and implementation; and monitoring, evaluation, and reporting. She has focused in particular on programs that promote entrepreneurship and innovation to drive economic growth, including business plan and innovation competitions, incubation of African tech startups, and acceleration of small firms. She has developed and delivered training materials for entrepreneurs in areas such as product design and pitching to investors.
Before joining DAI, Dipika worked for the World Bank researching public policy tools for fostering innovation in Asia. Prior to that, she worked for the Rainforest Alliance, a nongovernmental organization that works with agricultural, forestry, and tourism companies to promote sustainable business worldwide.
M.S., foreign service, Georgetown University
x
RELATED CONTENT:
Ranjith Poola is an analyst with DAI's Sustainable Business Group, where he provides technical and data analysis support. Ranjith has a passion for using data science to reveal relationships and discover patterns to inform business decision making.
Read More