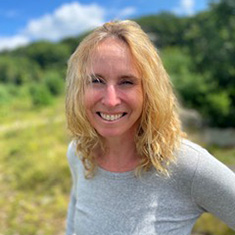 Christy Owen is a development professional with more than 25 years of experience in the areas of natural resource management, climate finance, private sector engagement, climate adaptation and mitigation, biodiversity conservation, and governance. She returns to DAI after more than a decade in Bangkok, Thailand, where she held leadership positions on three key climate and environment programs for the U.S. Agency for International Development (USAID)'s Regional Development Mission for Asia.
Most recently, she successfully served six years as the Chief of Party for USAID's Green Invest Asia. The project helped catalyze $446 million, unlocking the potential to reduce a projected 156 million tons of carbon emissions over 15 years and generating benefits for local communities through the improved management of 1.7 million hectares of land.
Prior to this, she served as the Chief of Party for Mekong Partnership for the Environment regional program that supported the improvement of social and environmental safeguards across the five Lower Mekong countries. Her first Thailand-based project was to serve as the Deputy Chief of Party for the USAID Mekong Adaptation and Resilience to Climate Change.
Proficient in Spanish, Christy has worked in Afghanistan, Armenia, Cambodia, Equatorial Guinea, El Salvador, Georgia, Honduras, Indonesia, Laos PDR, Malawi, Mexico, Myanmar, Philippines, Serbia, Thailand, Venezuela, and Vietnam.
M.A., public policy and communications, Latin American Studies program, University of Texas
B.A., history and sociology, Oberlin College
x
RELATED CONTENT:
Thomas Erdmann specializes in natural resources management and project management. A trained forester, he offers expertise in community forestry, agroforesty, ecoregional or landscape-scale conservation and development, conservation forestry, land use planning, and environmental impact and management.
Read More