Palestinian Market Development Programme (PMDP)
PMDP works to improve market systems and improve the competitiveness of the Palestinian private sector. We do so by improving private sector skills and innovation through technical assistance and matching grants; addressing market system failures in specific sectors through market analysis and facilitation; and strengthening trade and investment linkages with international markets in collaboration with key commercial representatives. DAI is mobilizing Palestinian diaspora to explore opportunities to transfer knowledge and improve linkages on trade and investment.
PMDP is a follow-on to the Facility for New Market Development project (2008–2012) implemented by DAI, which built a portfolio of 603 client-companies in the West Bank and Gaza from sectors including manufacturing, agribusiness, stone and marble, ICT, services, tourism, pharmaceuticals, media, and handicrafts. During the project, these client-companies increased their sales by $118 million and created more than 3,400 permanent jobs.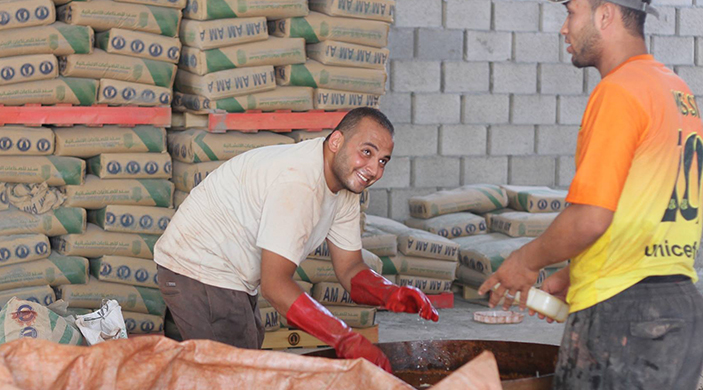 Sample Activities
Provide and manage matching grants to Palestinian businesses to assist them in innovating products/services.

Analyze and identify the root causes of underperformance and market failures.

Offer capacity support to the Palestinian Investment Promotion Agency (PIPA) to strengthen foreign and local investment.

Create linkages to mobilize potential diaspora investment, knowledge and technological transfer to the Palestinian private sector.
Select Results (through June 2017)
Open Matching Grants:
364 businesses assisted under open grants (98 are women-owned or -managed).
461 new products developed or enhanced (135 by women owned/managed businesses).
198 enterprises reported improved annual performance (46 by women owned/managed businesses).
£33 million increase of sales due to programme assistance.
833 jobs created (248 for women).
Gaza Back to Business/Market Window
264 businesses assisted.
136 new products developed or enhanced.
£55.7 million increase of sales due to programme assistance
1,617 jobs created (44 for women).
x
RELATED CONTENT:
Funded by the U.K. Department for International Development and the Islamic Development Bank and working in Jordan, Egypt, and Palestine, Arab Women's Enterprise Fund (AWEF) stimulates increased women's economic empowerment and agency through a market systems approach.
Read More