Africa–Off-Grid Energy Access Mapping in Sub-Saharan Africa
With more than one billion people around the world living without reliable and affordable electricity, an increasing number of off-grid energy technologies and business models are emerging in an effort to close this global energy access gap. While companies offering off-grid solutions are interested in the world's most under-electrified areas, they often lack the critical information on market potential, electrical infrastructure, socioeconomic contexts, and energy demand required to make prudent investment decisions.
The Sustainable Business Group designed a methodology to help the World Bank and International Finance Corporation provide investors with the data necessary to better understand the market for off-grid energy, and made that data accessible through a web-based, geo-analytical application. The resulting Off-Grid Market Opportunity Tool, built by project partner Development Seed, maps potential hot spots for investment across Sub-Saharan Africa, with additional in-depth, highly localized data for Nigeria, Tanzania, and Zambia.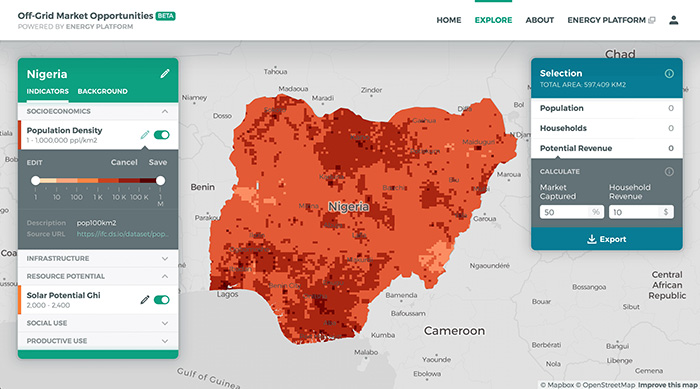 Select Results
Leveraged our experience assessing consumers' electricity access and ability to pay for electricity services to develop a data framework for characterizing off-grid markets based on demographics, energy access, energy demand, financing and payments, productive uses, land use, and renewable potential.
Utilized open source data sets to advise on strategies for identifying areas without electrical grid service and calculating basic energy expenditure at a subnational level.
Combined datasets with solar irradiance data to provide investors with a decision-making tool to analyze and visualize market potential throughout Sub-Saharan Africa.
x
RELATED CONTENT:
DAI's Sustainable Business Group (SBG) is providing oil and gas awareness training programs for a multinational corporation in Senegal.
Read More