Afghanistan—Regional Agricultural Development Program (RADP–North)
Farmers and agribusinesses in northern Afghanistan are well-positioned to capitalize on the country's growing economy and expanding ties to the global community. In recent years, Mazar-e-Sharif has become a trading hub for agricultural products, in part because of its proximity to Central Asia. Buildings are springing up across the city as companies set up shop, and a newly functioning railway between Mazar-e-Sharif and the Uzbekistan border has unlocked vast trading opportunities with Central and Southern Asia. In Kunduz and Badakhshan provinces, new bridges across the Amu River have also opened trade with Tajikistan.
Despite these prospects, farmers and agribusinesses in northern Afghanistan face a range of challenges to improve farm productivity and increase agribusiness profitability. The lack of reliable irrigation, use of low-yielding seeds, widespread absence of fertilizer and pesticide, poor cultivation and post-harvest techniques, shortage of appropriate technologies, and underutilization of female labor all contribute to weak productivity. The Regional Agricultural Development Program–North (RADP-North), funded by the U.S. Agency for International Development (USAID), is a powerful facilitator of these investments and works to improve the productivity and profitability of select agricultural value chains which will increase the food and economic security of rural Afghans.
Through partnerships with USAID, Afghan Government agencies such as the Ministry of Agriculture, Irrigation, and Livestock (MAIL) and the Directorate of Women's Affairs (DOWA), and myriad development projects focused on stability, infrastructure, and agriculture, RADP-North leverages investments in agricultural value chains to optimize cost-effectiveness and incorporate lessons learned.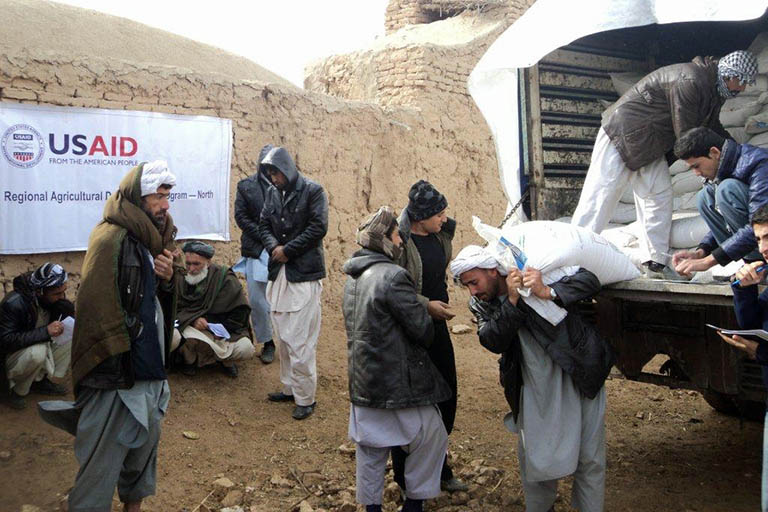 Sample Activities
Improve market linkages among farmers, agribusinesses, and consumers.
Support development of a policy/action plan for establishing a railway transit agreement with Uzbekistan.
Develop public and private sector systems for input and technology supply.
Select Results
Helped 2,000 high-value crop farmers to increase productivity by 35 percent or more.
Improved sales of target commodities by $22 million for beneficiary farmers and agribusinesses.
Assisted 400 agribusinesses to improve management practices and apply new technologies.
Helped input suppliers reach farmers through text messaging and live radio shows, leading to an average 20 percent sales increase.
Sponsored four agribusinesses to attend the 2017 Gulfoods exhibition, where they made connections to sell $1.2 million in raisins, pistachios, and almonds to international buyers.
Project activities benefitted 56,700 individuals across Northern Afghanistan and created 215 new jobs for assisted agribusinesses.
Assisted 579 agriculture-related businesses to improve management practices and business profitability.
x
RELATED CONTENT:
DAI is supporting NIRAS to promote sustainable land management policies and practices that will improve the economic well-being of rural Ethiopians and combat land degradation resulting from climate change.
Read More