Webinar Series: Connecting Public and Private Responses to COVID-19 and its Impact on Global Development
June 02, 2020
The COVID-19 pandemic poses an increasingly severe challenge to developing countries, particularly the least developed. A recent estimate from UNDP sees their income loss exceeding $220 billion. DAI and the European Centre for Development Policy Management (ECDPM) today announced a series of webinars designed to engage and inform global development stakeholders seeking to mount an effective response to the COVID-19 crisis.
As a global company implementing development programming in more than 100 countries—including many of the world's most challenging environments—DAI is building on its in-house expertise and multiclient experience to share knowledge and identify innovative solutions applicable to the COVID-19 crisis. DAI's teams are in close communication with donors and partner country stakeholders to coordinate an effective response to the pandemic. Our in-house technical staff are developing toolkits, response strategies, digital approaches and solutions, and ways of adapting to COVID-19 by project, context, and sector.
As a leading think-and-do tank on sustainable development policies and practices, ECDPM has mobilised its expertise and key network—from policy makers and knowledge institutions to business associations and development financiers—to reflect on how best to address the challenges of the pandemic, and how COVID-19 may affect EU-Africa relations and the prospects for development and international cooperation more broadly.
Practical Webinars
DAI and ECDPM are collaborating to share this growing body of knowledge and engage with our partners and clients through practical webinars addressing their main priorities. DAI-ECDPM webinars bring together public and private practitioners to reflect on the immediate reaction of the development community and support the post-pandemic global response of the EU, in line with its recent Communication.
The webinars will be recorded and remain available on DAI's and ECDPM's websites. REGISTER HERE.
Weekly Calendar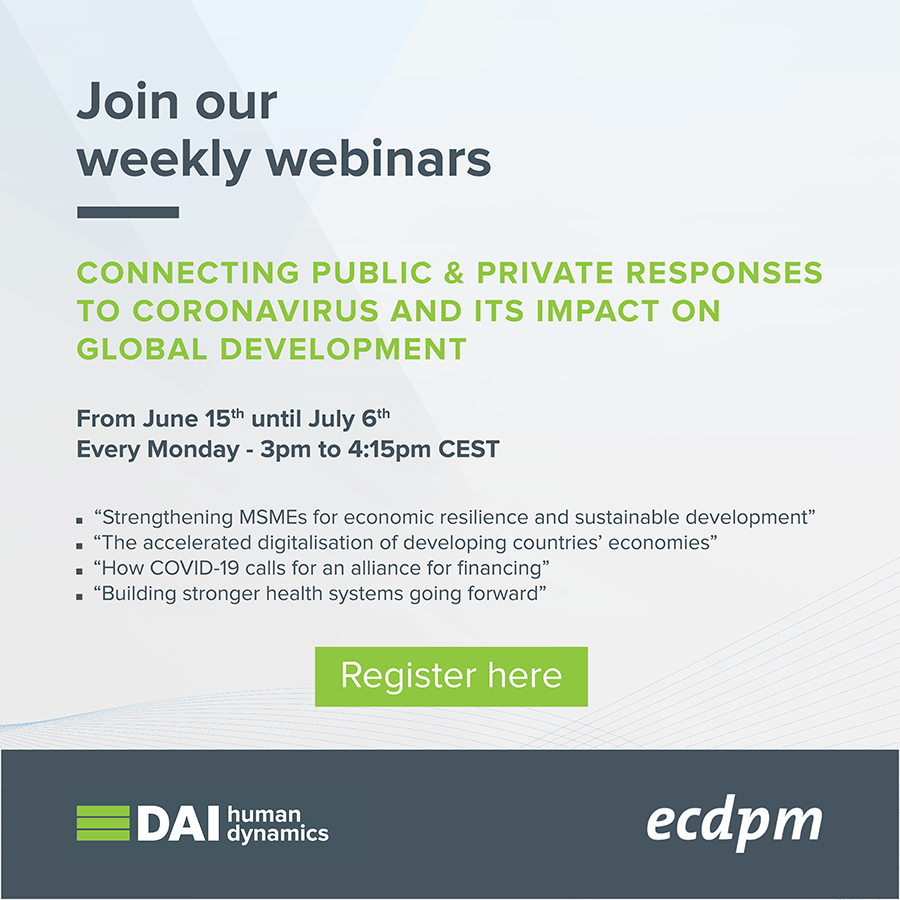 x
RELATED CONTENT:
On May 3, the Harvard Alumni for Global Development and Embassy of Haiti will host a discussion on how technology is being applied to link and unite health providers and facilities across Haiti. The event in Washington, D.C., will feature Bobby Jefferson, DAI Global Health's Chief Technology Officer, and Jeff Mecaskey, DAI's technical lead for economics and financing, evidence and learning.
Read More