December 05, 2022
The U.S. Agency for International Development (USAID) has named two DAI-led projects as two of five winners of the 2022 Digital Development Awards (the Digis).
The USAID Economic Security Program in Georgia won for providing training on information and communication technology (ICT) to the country's workforce and connecting local artisans to online markets. The program's ICT apprenticeship program includes a six-month, on-the-job training program—a novelty in Georgia—and has already propelled more than 130 young specialists into careers.
The program's ecosystem approach went beyond addressing workforce and skills development by strengthening market linkages for small firms. Through efforts to bolster the creative sector, the program also introduced more than 120 Georgian artisans to global e-commerce on the Etsy artisan platform. To date, Georgian artisans on Etsy have earned more than $150,000 in income. In addition, the program's focus on innovation within the digital environment provided an opportunity for Theneo, an ICT startup, to gain more than $900,000 in initial investment and to compete in the Startup World Cup Global competition in the Silicon Valley, California—the first time a Georgian startup has ever taken the main stage at this event.
The Digital Frontiers project won for its Digital Asia Accelerator, part of the Digital Connectivity and Cybersecurity Partnership, which works to educate and train businesses and individuals—especially youth—on digital safety and cybersecurity best practices in Southeast Asia and Mongolia.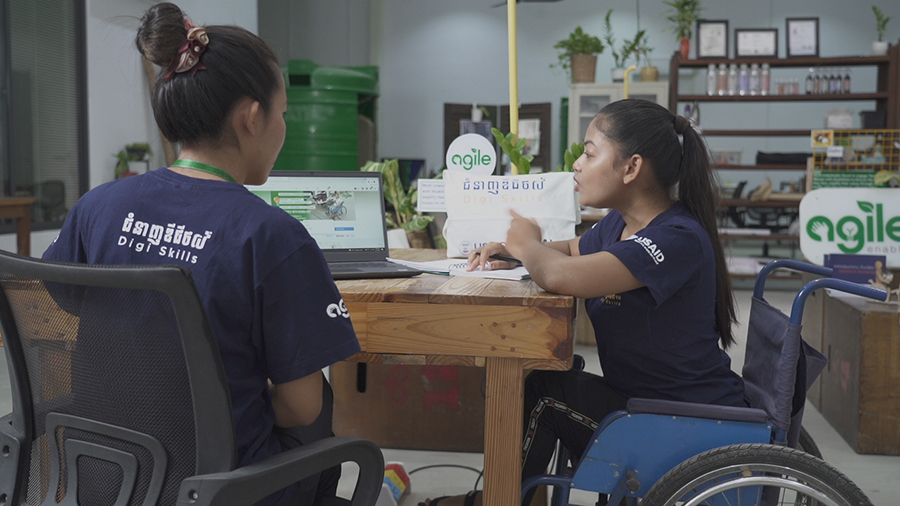 Digital skills training in Cambodia. Photo: USAID Digital Asia Accelerator.
The Accelerator took three main approaches: 1) working with partners such as Microsoft and WhatsApp for Business to provide digital upskilling and cybersecurity support; 2) training the small business community on digital policies that will affect their companies so they can effectively engage policy makers on these issues; and 3) partnering with artists, local media, and companies such as Meta on creative campaigns that raise awareness and build capacity among citizens to employ key cybersecurity practices.
"Both the Economic Security Program and Digital Frontiers have made critical contributions to USAID's Digital Strategy, and DAI is proud to be a partner in bringing that strategy to life in some of the most dynamic digital ecosystems in the world," said Anand Varghese, Associate Director, Center for Digital Acceleration. "The Economic Security Program's efforts have strengthened Georgia's linkages to the global digital economy, and Digital Frontiers has made massive strides in increasing user trust in Southeast Asia. Both of these Digi winners will have long-term positive impacts in shaping a more livable world through the power of digital technology."
USAID's Innovation, Technology, and Research Hub received nearly 200 applications for this year's awards. Each project was judged on the ability to deploy digital technology or support the digital ecosystem, as outlined in USAID's Digital Strategy.
"The Digis recognize and celebrate USAID projects and activities that embrace the Agency's strategic goals of improving development and humanitarian assistance outcomes through the use of digital technology and strengthening open, secure, and inclusive digital ecosystems," said USAID in announcing the awards. "These ecosystems can help drive economic empowerment and financial inclusion, advance national security, support accountability and transparency in governance, and make development and humanitarian assistance more efficient and effective."