December 02, 2021
In November, MozUp, the Enterprise Development Centre (EDC) in Mozambique, officially launched its Maputo office. MozUp is operated by Mozambique Enterprise for Sustainability (MES), which is a joint venture between DAI and Mozambican implementing partner, Taciana Peão Lopes & Advogados Associados. Though the formal launch event took place in November, MozUp has been operational since April 2020.
The launch was hosted by ExxonMobil Moçambique, Limitada on behalf of Mozambique Rovuma Venture and the Area 4 partners in collaboration with the Government of Mozambique and the private sector. Area 4 is the geographic block of the Rovuma Basin located in the north of Mozambique, containing some of the largest natural gas discoveries in the world.
MozUp provides Mozambican enterprises with skills to participate in the liquefied natural gas and other growing industries in the country. MozUp delivers a variety of supplier development services to small and medium-sized enterprises (SMEs) and has already hosted 72 seminars and business training sessions—virtually and in-person—for 1,909 participants from 1,345 companies. Training has covered safety, security, health, environment, procurement processes, legal literacy, access to financial products and services, business ethics and anticorruption, financial management, human resources, and compliance.
MozUP provides access to training on Area 4's web-based Supplier Registration Portal, developed by DAI and administered by MozUp. Suppliers can register their businesses on the portal and include their specific services and products. The portal was launched in November 2018 and currently has 2,046 suppliers registered, of which 77 percent are Mozambican-registered entities.
"We are excited to be working on such an important project with the Area 4 partners and the Government of Mozambique. It's vital that we develop local suppliers so that they are able to benefit from the significant foreign investments being made in country," said Barbara Habib, general manager of MES. "We look forward to developing SMEs and harnessing their entrepreneurial spirit to support Mozambique's economic development."
Vanderleia Mamade, who participated in several MozUp activities, is the executive director of Lia & Luana, a catering company. Before the end of 2020, her company won its largest ever contract with a consortium of large companies to provide 1,500 meals per day. In such uncertain times, with the challenge of maintaining a workforce of more than 120 employees, winning the contract held special meaning.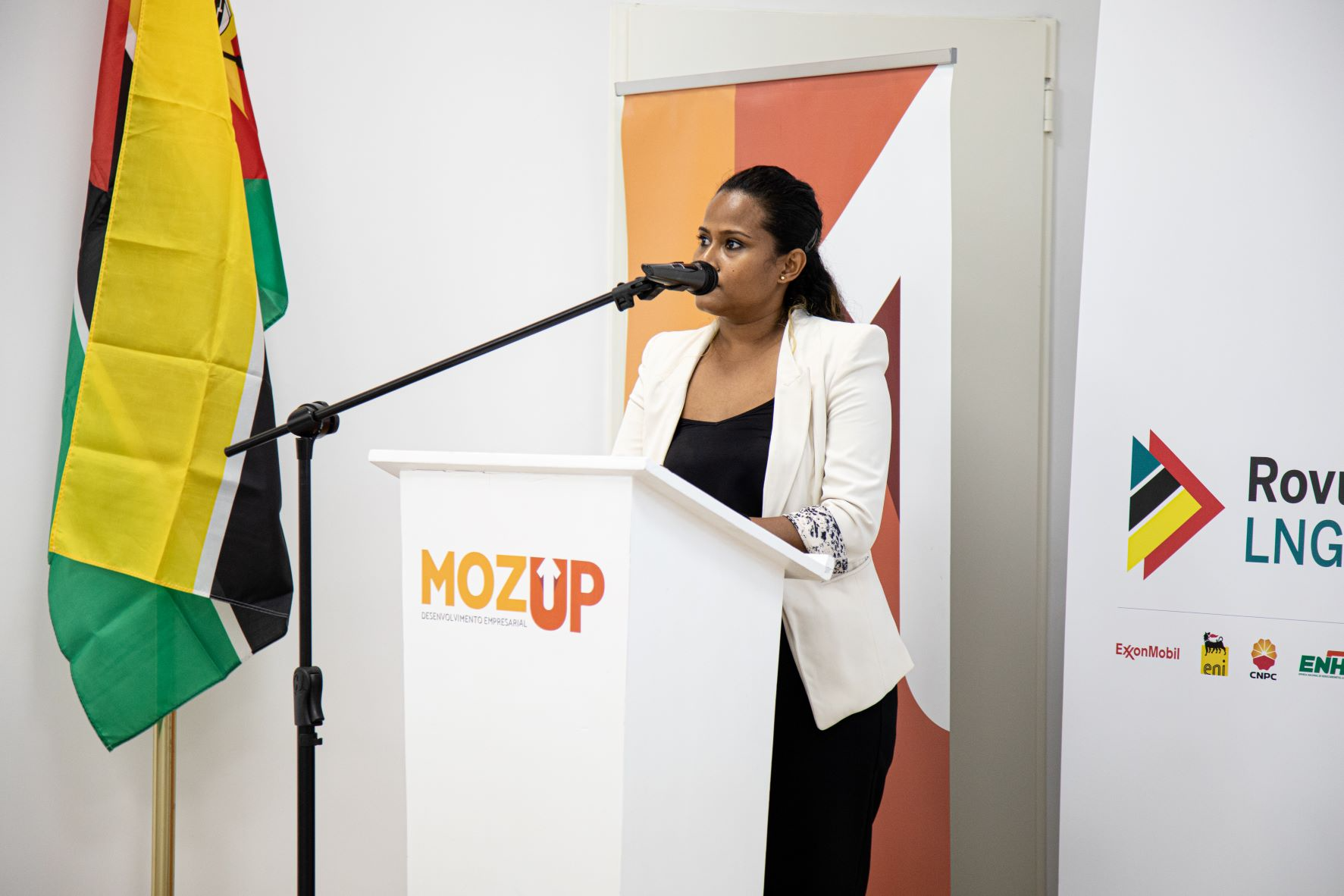 Vanderleia Mamade, Executive Director of Lia & Luana at the Launch event. Photo: Ekaya Productions
"The various competencies and knowledge that we developed with MozUp's support were fundamental to our success in this proposal. Our proposal ended up being very competitive, and we applied concepts we learned from MozUp. The concepts related to food, health, and occupational safety were of great value because these were important tender criteria," said Vanderleia.
When she heard about MozUp, the young executive director seized the opportunity to upskill, capitalize on the company's growth potential, and create jobs. MozUp has helped her identify areas for improvement within the company and facilitated business training, and is supporting her application to become the first Mozambican catering company to attain International Safety Organization Food Safety Management Systems Certification (ISO 22000).
Vanderleia hopes the certification will lead to new opportunities. "We wouldn't even be able to think about obtaining the certificate by December 2021 if MozUp had not decided to offer its continuous support in this process."
Area 4 is operated by Mozambique Rovuma Venture S.p.A. (a joint venture between Eni, ExxonMobil and CNPC), Galp, KOGAS, and Empresa Nacional de Hidrocarbonetos E.P.
Learn more about MozUp. Learn more about DAI's Sustainable Business Group