April 23, 2015
The Regional Climate Change Program (RCCP) recently supported the Instituto Tecnologico de Costa Rica (TEC)'s participation in the annual International Space Apps Challenge, sponsored by the National Aeronautics and Space Administration (NASA).
The Challenge, held simultaneously in 147 locations around the world, involved more than 12,000 people. TEC hosted the event at its campus in Costa Rica with the support of RCCP, which is funded by the U.S. Agency for International Development.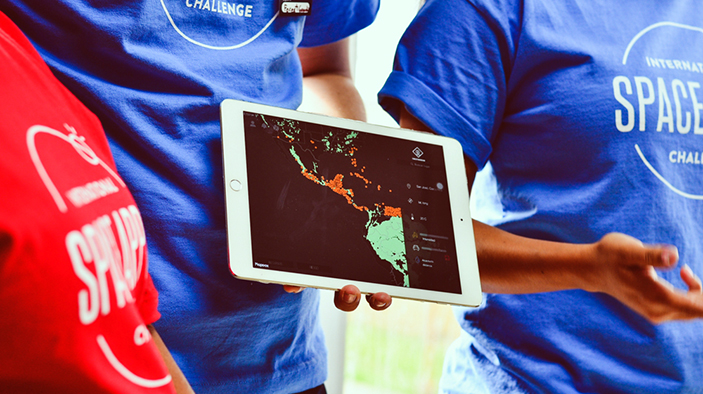 Jeff Schmidt, researcher and computer science professor at TEC, said the goal of the 30-hour competition was to develop technological applications that respond to various challenges in earth observation, robotics, space science, and human science.
Led by CATIE with DAI as a subcontractor, RCCP works to create technology solutions to aid decision makers grappling with climate change-related issues, using available and accessible data. Given that the Space Apps Challenge deals with agriculture and food security, biodiversity, ecosystems, and carbon and water, there was a natural affinity between the project and challenge. Thus, the partnership between RCCP and TEC was born.
CATIE's Deisy López, a specialist in climate change adaptation, and DAI's Alejandro Solis, an expert in information and communications technology (ICT), accompanied and advised the teams, providing particular guidance on how to link the proposals to end users.
Two of the teams guided and oriented by the RCCP specialists won second and third prize.
The second place team developed a solution to protect forests against fires based on the identification of historically vulnerable sites. The "Forest Guardian" app (pictured) uses layers of information generated by a sensor, the Moderate Resolution Imaging Spectroradiometer, to identify heat points and intensities. The team also used an Application Programming Interface from the Costa Rican Meteorological Service to determine wind direction and identify areas of risk during an emergency.
The team behind the Forest Guardian app will now have the opportunity to be evaluated by a global team of judges from NASA. Five projects will be selected in each of the categories and may be incubated and developed by NASA.
The third place team created "Cloud Coffee," an app to centralize and disseminate information and connect decision makers around daily and seasonal forecasting for coffee crops. The app also reports outbreak of diseases such as rust that would affect coffee beans.
Cloud Coffee also has an administrative control panel with a geospatial platform for consultation on cases of infestation, reporting, and two-way communication with Costa Rica's Ministry of Agriculture.
CATIE is a regional research, higher education, and outreach institution devoted to environmental issues including sustainable agriculture and natural resource management. It focuses on tropical America, especially Mesoamerica and the Caribbean.