May 03, 2018
Please join the CSIS Global Health Policy Center, in collaboration with DAI Global Health, Mérieux Foundation USA, and the USAID-funded Preparedness & Response project for a symposium addressing how U.S. and international policies aim to reduce the risk of a 21st century equivalent of the Influenza pandemic of 1918.
To attend the May 17 event, register here. The event will also be webcast live from the registration page.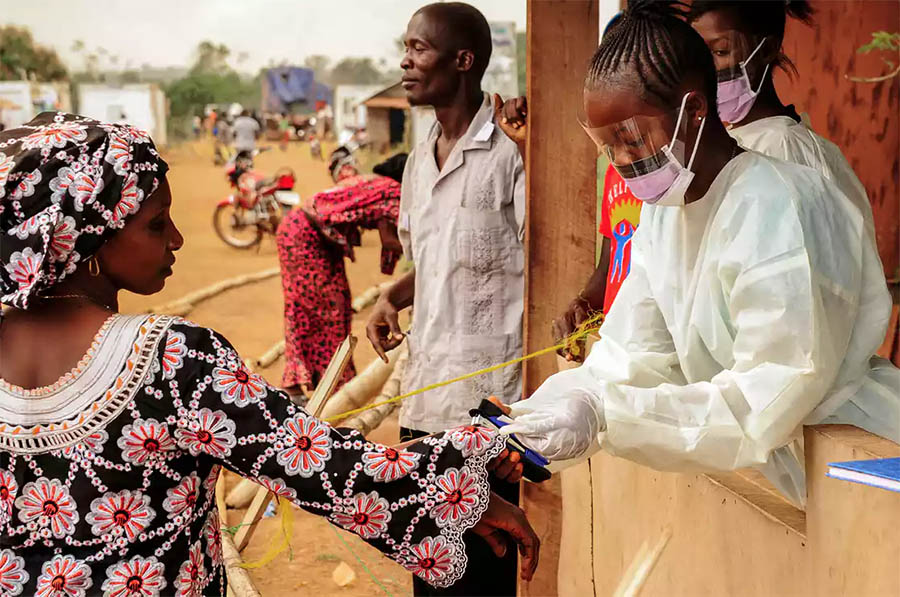 Sierra Leone's health officials monitoring for Ebola cases at a border crossing in 2015. Photo Credit: USAID.
The symposium will explore how current policies translate into practice in high-risk countries through collaboration between human and animal health professionals and institutions. Speakers include policymakers and implementers who will identify priorities and challenges facing the future of pandemic preparedness. An hour-long reception will follow.
This year marks the 100th anniversary of the most lethal pandemic in recent history, the "Great Influenza," which killed at least 50 million people worldwide, including 670,000 in the United States. Recognizing this centenary is a major Smithsonian Institute exhibit titled Outbreak: Epidemics in a Connected World, opening May 18.
J. Stephen Morrison, Senior Vice President and Director of the CSIS Global Health Policy Center, will provide opening remarks, and Luciana Borio, Director of Medical & Biodefense Preparedness Policy at the National Security Council will deliver the keynote address, focusing on the future of U.S. policy related to pandemic preparedness.
Beth Cameron, Vice President for Global Biological Policy and Programs at the Nuclear Threat Initiative, will moderate a panel focused on priorities and challenges in implementation. Featured panelists include:
David Heymann, Head and Senior Fellow, Centre on Global Health Security, Chatham House

Andrew Kitua, Regional Director, Africa, USAID-funded Preparedness & Response project

Amadou Sall, Professor and Director, Institut Pasteur, Dakar, Senegal
Sabrina Sholts, Curator of Outbreak: Epidemics in a Connected World at the Smithsonian National Museum of Natural History, will close with a preview of the exhibit.
A co-sponsor of the event, DAI Global Health builds on two decades of frontline experience tackling diseases such as avian influenza, SARS, MERS-Coronavirus, ZIKA, and Ebola. DAI is currently implementing the U.S. Government's flagship Preparedness & Response program in partnership with Mérieux Foundation USA, a distinguished independent foundation committed to fighting infectious diseases in developing countries.
Please join us for what promises to be an insightful and informative event.
When:
Where: