May 12, 2022
Wilson's appointment underlines DAI's commitment to mobilize private capital at scale in emerging and frontier economies, the critical ingredient needed to drive global development and climate action
DAI, one of the world's leading development consulting firms, today announced the appointment of Gavin E.R. Wilson as Chief Executive Officer of DAI Capital, its investment banking and asset management arm.
"As development professionals, we are increasingly attuned to the critical importance of capital flows that spur growth, create jobs, reduce poverty, and support the tax revenues underlying essential public services," said DAI President and CEO Jim Boomgard. "Gavin's extensive experience in public and private finance, his vision, his proven record of leadership, and his stature in the field will all be invaluable as we build DAI Capital into a driver of sustainable investment in the places that need it most."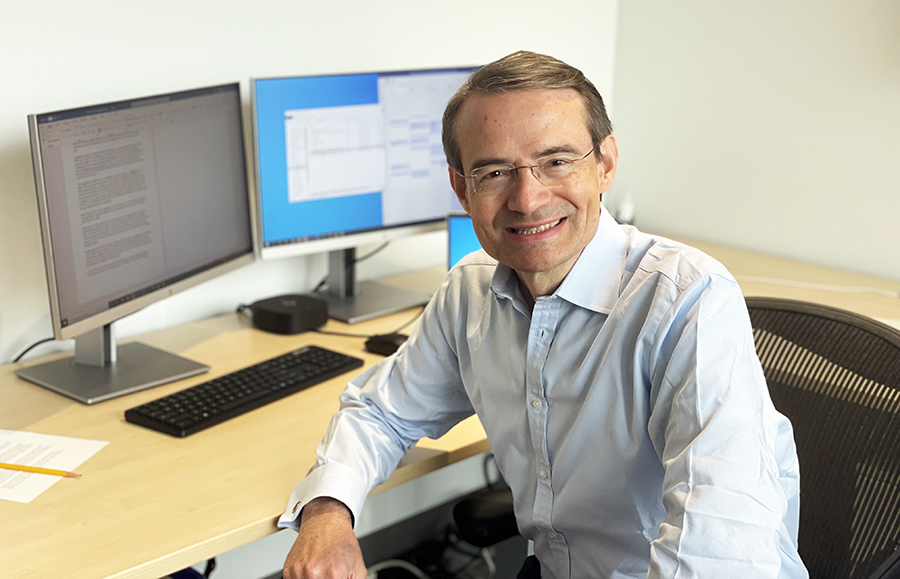 Gavin Wilson in DAI's Bethesda office.
"I am delighted to join DAI with a clear mandate to address the most pressing issue confronting global development and climate action—how to attract more private capital, particularly in emerging markets," said Wilson. "The funding shortfall for the Sustainable Development Goals is immense and can only be addressed by fully engaging the still relatively untapped resources of the global financial markets. Our business purpose at DAI Capital is to connect those resources with investment opportunities and development needs in a way that is profitable, impactful, and sustainable."
DAI Capital is building a multiproduct platform based on two core pillars: a corporate finance business that helps companies raise capital, and an asset management business that makes investments. In 2020, DAI acquired a majority stake in Magister Advisors to form DAI Magister, a corporate finance and M&A advisory business that connects growth companies in emerging and frontier markets with global equity investors. In 2021, DAI acquired MicroVest Capital Management, a leading private credit investor in responsible finance institutions, which has made investments of more than US$1 billion to promote financial inclusion across 60 countries.
"We intend to deepen and broaden our product offering, our geographic presence, and our client relationships through additional acquisitions as well as through organic growth and partnerships," added Wilson.
Wilson brings to DAI a wealth of experience at the very highest levels of the development finance, emerging markets, and investing arenas, with a distinguished record of service that spans the public and private sectors.
Wilson worked for 13 years as an investment banker at Goldman Sachs, including as a Managing Director in the firm's Investment Banking Division in London. He co-headed Goldman's EMEA Industrials Group and was previously head of the firm's New Markets investment banking execution team, focused on emerging markets in Europe, the Middle East, and Africa.
On both sides of his tenure at Goldman, Wilson worked for the World Bank Group for a total of 16 years, including as the founding CEO of IFC Asset Management Company (AMC) from 2009 to 2017. Wilson led the development and growth of AMC, an International Finance Corporation subsidiary that established an innovative business model for multilateral development finance. Operating as a private equity fund manager, AMC mobilized and actively managed commercial capital for profitable investment, while also achieving strong development impact. Under Wilson's leadership, AMC raised more than US$10 billion in capital across 13 funds—including private equity, private credit, infrastructure, and fund-of-fund products—and made more than 100 investments in companies and funds covering 69 emerging and frontier markets.
Wilson has also served as a Commissioner on the Business and Sustainable Development Commission, as a member of the Steering Group for the Redesigning Development Finance Initiative, and as co-chair of the World Economic Forum's Global Future Council on Sustainable Development.