June 16, 2017
The Finance for Climate Change Innovation Fund (FICCF), operated by a DAI-led project, recently held a two-day conference in Nairobi to share achievements under the Climate Smart Agriculture pilot.
The FICCF is promoting the transition to climate-smart agriculture in Kenya through support to microfinance institutions partnering with agribusiness aggregators and smallholder farmers to adopt a range of tools and practices to de-risk production and build resilience to increasingly variable climate. The FICCF is managed by the Strengthening Adaptation and Resilience to Climate Change in Kenya Plus (StARCK+) programme, funded by the U.K. Department for International Development (DFID).
The event saw more than 140 participants representing microfinance institutions, insurance and climate information services partners, agribusiness aggregators, project implementers, research and development partners, government institutions as well as cassava, sorghum and dairy farmers from Kisumu, Homa Bay, and Nyandarua counties.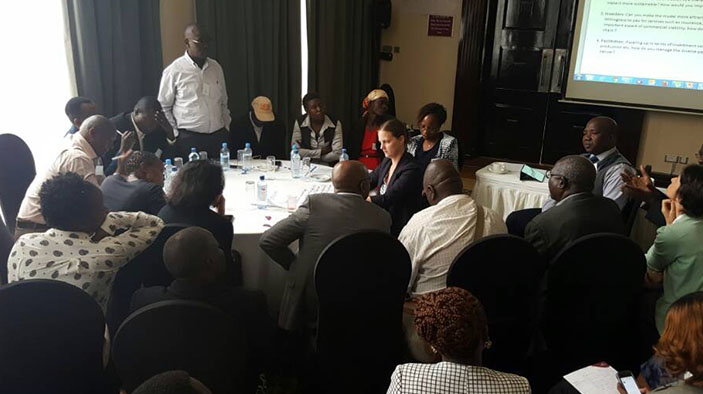 The conference featured five sessions covering the key layers of the FICCF climate-smart agriculture pilot: Finance, Climate Information Services, Insurance, Technical Services, and Partnerships. During the breakout session, participants discussed the opportunities to adapt and scale up the climate-smart agriculture model capable to attract external investors. In addition, 15 exhibition booths were on display for participants to meet agribusinesses, insurance, and technical service providers engaged in the various commodities.
Through detailed accounts in each of the value chains, attendees heard how FICCF set up a range of partnerships with commercial and market players to test a package of services to farmers to de-risk farm investments and build resilience.
Through matching grants and partnership facilitation by FICCF, microfinance institutions highlighted the importance of technical services and climate information services. They discussed how access to this knowledge has translated into farmers producing more crops throughout the year and better managing their risks.
Greater productivity at the farm level translates into a greater ability to borrow and invest. Ann Maina, Managing Director INUKA MFI, said, "We are projecting longer relationship with these farmers and developing other products for them." Through FICCF, INUKA has also leveraged additional capital funds from the MasterCard Foundation.
The Head of DFID Kenya, Pete Vowles, along with Sabita Thapa, lead Climate Advisor, acknowledged the intensity of effort required in developing innovative partnerships between value-chain actors. They also reiterated the contribution of the pilot towards building resilience in Kenya, a high priority for DFID.
STARCK+ seeks to support Kenya's efforts in addressing climate change through private sector engagement, improved governance and civil society capacity.