January 29, 2020
The government of Nigeria has inaugurated a steering committee to drive the country's digital identity programme. President Muhammadu Buhari appointed Dr. Joe Abah, DAI's Country Director for Nigeria, as a member of the committee, which has the mandate to fast-track the implementation of Nigeria's Strategic Roadmap for accelerating digital identity development.
More than 100 million Nigerians have no official identity—typically those who belong to poor, vulnerable, and excluded groups. Only 38 percent of the country's population have official identification.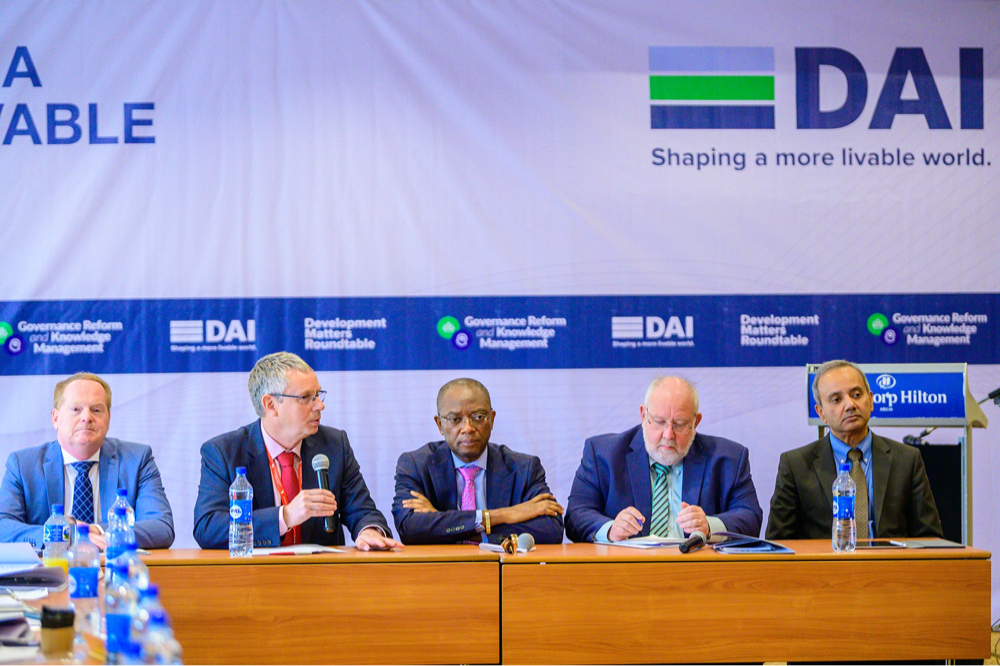 From the left: Kurt Cornelis – Head of Cooperation, European Commission; Chris Pycroft – Head of Office, DFID; Joe Abah; Steve Haykin –Mission Director, USAID; Shubham Chaudhuri – Country Director, World Bank at DAI Development Matters Roundtable themed "Governance Reform in Nigeria - Changing Government from the Inside" Abuja, January 2020.
The Project Steering Committee will provide policy, institutional, and operational guidance to the National Identity Management Commission (NIMC) as they work to provide all Nigerians with an integrated digital identity. As Nigeria's identity regulatory and operational agency, NIMC will manage the three-tiered institutional arrangement, which includes a Steering Committee, a Strategic Unit, and an Implementation Unit. The Implementation Unit will provide governance, partner coordination, and communication, as well as day-to-day programme implementation.
Committee members include Secretary of NIMC, Aliyu Aziz, and Minister of Communication and Digital Economy, Dr. Isa Ali Pantami, who have collaborated with DAI in Nigeria on digital acceleration for economic development and participated as DAI Development Matters Roundtable panelists in May. The steering committee is chaired by the Secretary to the Government of the Federation. Other members appointed by the President include:
Minister of Finance, Budget and National Planning, Mrs. Zainab Shamsuna Ahmed.
Minister of Justice and Attorney General of the Federation (HAGF), Abubakar Malami.
Minister of Education, Adamu Adamu.
Minister of Interior, Ogbeni Rauf Aregbesola.
Minister of Health, Dr. Osagie Ehanire.
Directors-General of the National Orientation Agency, Dr. Garba Abari.
National Security Adviser.
CBN Governor, Godwin Emefiele.
Ministry of Humanitarian Affairs.
Chairman, National Population Commission.
Auwal Musa (Rafsanjani) of CISLAC.
"I am honored to serve the nation as a member of this steering committee" said Abah. "Our short-term task is to give all Nigerians a digital identity within 5 years, thereby providing critical data required to improve the delivery of public services to citizens. We will integrate relevant public and private data such as bank verification number, driver's license data, birth records and international passport data, with the National Identity database of the Commission."
Abah has served as DAI's Country Director in Nigeria since March 2018. Previously, he served as Director General of the Nigeria Bureau of Public Service Reform and led initiatives to reposition NIMC for effective identity management. Abah has experience in governance reform and institutional change management as well as a practical grounding in development management.
Abah's appointment underpins DAI's 50-year experience in Nigeria's development and the company's commitment to accelerate the integration of digital solutions for sustainable social, economic, and governance impact.