September 15, 2020
DAI's Eunice Heredia-Ortiz, a senior governance specialist in public finance and fiscal transparency, this week won the 2020 Sheth International Alumni Award for Exceptional Achievement from her alma mater, Georgia State University (GSU) for "garner[ing] an exemplary and longstanding professional reputation of achievement worldwide."
The award, granted once a year, was established in 2018 and named after Professor Jagdish Sheth, a professor of marketing at Emory University Goizueta Business School, internationally known for his scholarly contributions in consumer behavior, relationship marketing, competitive strategy, and geopolitical analysis. Sheth has more than 50 years of combined experience in teaching and research at the University of Southern California, the University of Illinois, Columbia University, MIT, and Emory University.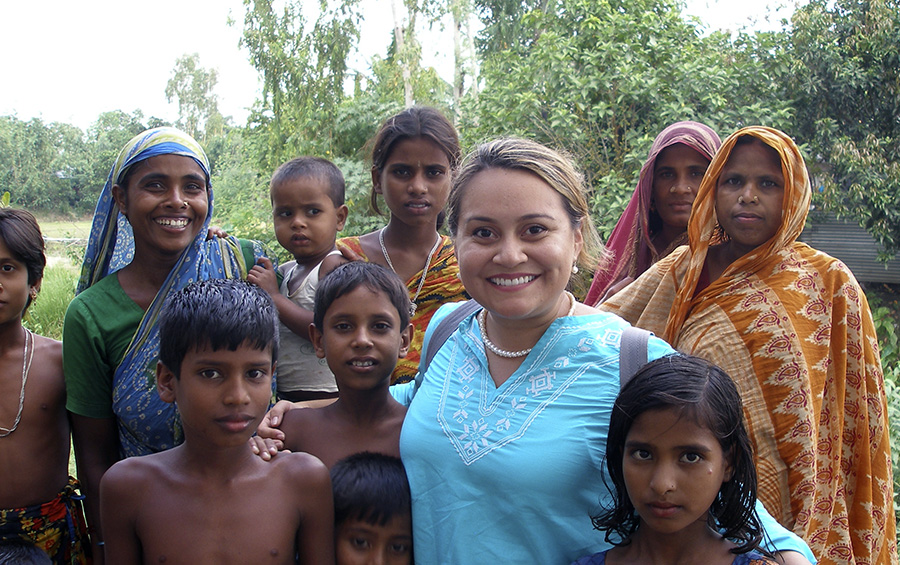 Eunice Heredia-Ortiz in Bangladesh.
Heredia-Ortiz, originally from Bolivia, learned English when she was 12 years old. After graduating high school, she was granted an international student scholarship to study at East Stroudsburg University in Pennsylvania. She then pursued a master's degree and Ph.D. at GSU.
In 2005 she met two DAI colleagues through a fiscal policy and management training program funded by a U.S. Agency for International Development (USAID) project. In 2010, she was hired by DAI and moved to Maryland. "This was life-changing as I got an opportunity to expand my knowledge, experience, coming closer to field implementation through the governance portfolio at DAI," she said.
While at DAI, she has worked on numerous high-profile projects, including enhancing tax administration, public expenditure management, and results-orientation in public spending in El Salvador; analyzing tax expenditures and advancing capacities for tax policy analysis in Jordan; and assisting the Guatemalan government to mobilize domestic resources, enhance transparency, and reform public procurement.
"I am humbled and honored to receive this award for doing what I love to do, which is to shape a more livable world in the countries where we work," said Heredia-Ortiz. "I hope it can be of inspiration to the many international students seeking to further their education and experience in the United States, especially the Latino community and women."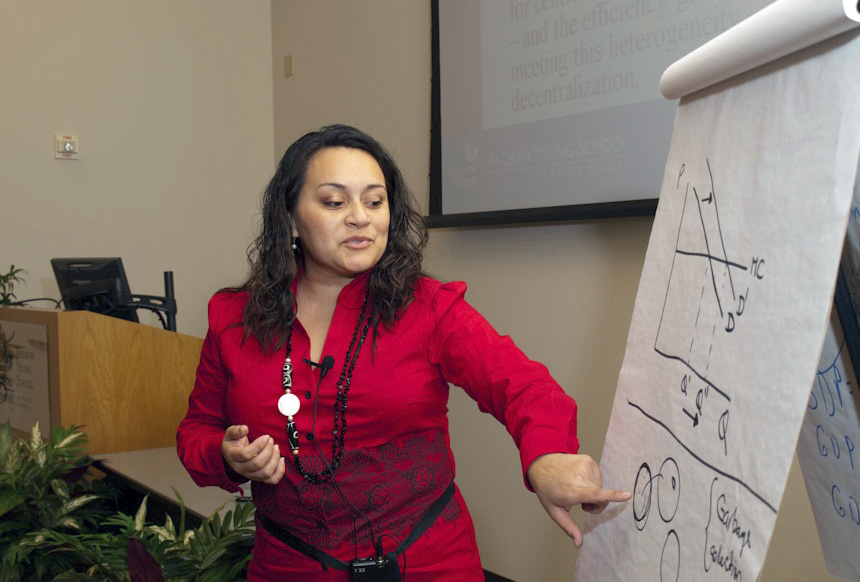 Eunice Heredia-Ortiz leads finance training at GSU.