January 29, 2020
DAI has won a contract award from ExxonMobil, on behalf of Mozambique Rovuma Venture and the Area 4 partners, to establish an Enterprise Development Center (EDC) in Mozambique. With offices in Maputo, Pemba, and Palma, the Center will collaborate with the government of Mozambique and the private sector to provide small- and medium-sized Mozambican enterprises with skills to participate in a variety of growth industries in the country.
The EDC will serve as a platform to develop qualified, competitive Mozambican businesses. Mozambique Enterprise Solutions—a joint venture between DAI and local partner TPLA—will design the Center, providing business assessments, consulting and advisory services, training services, assistance with quality and safety certification requirements, and information on accessing capital.
"We are excited to bring our global expertise to Mozambique in partnership with TPLA, a Mozambican woman-owned business," said Zachary Kaplan, director of DAI's Sustainable Business Group. "Together, we intend to support the local content goals of Rovuma LNG and the government of Mozambique."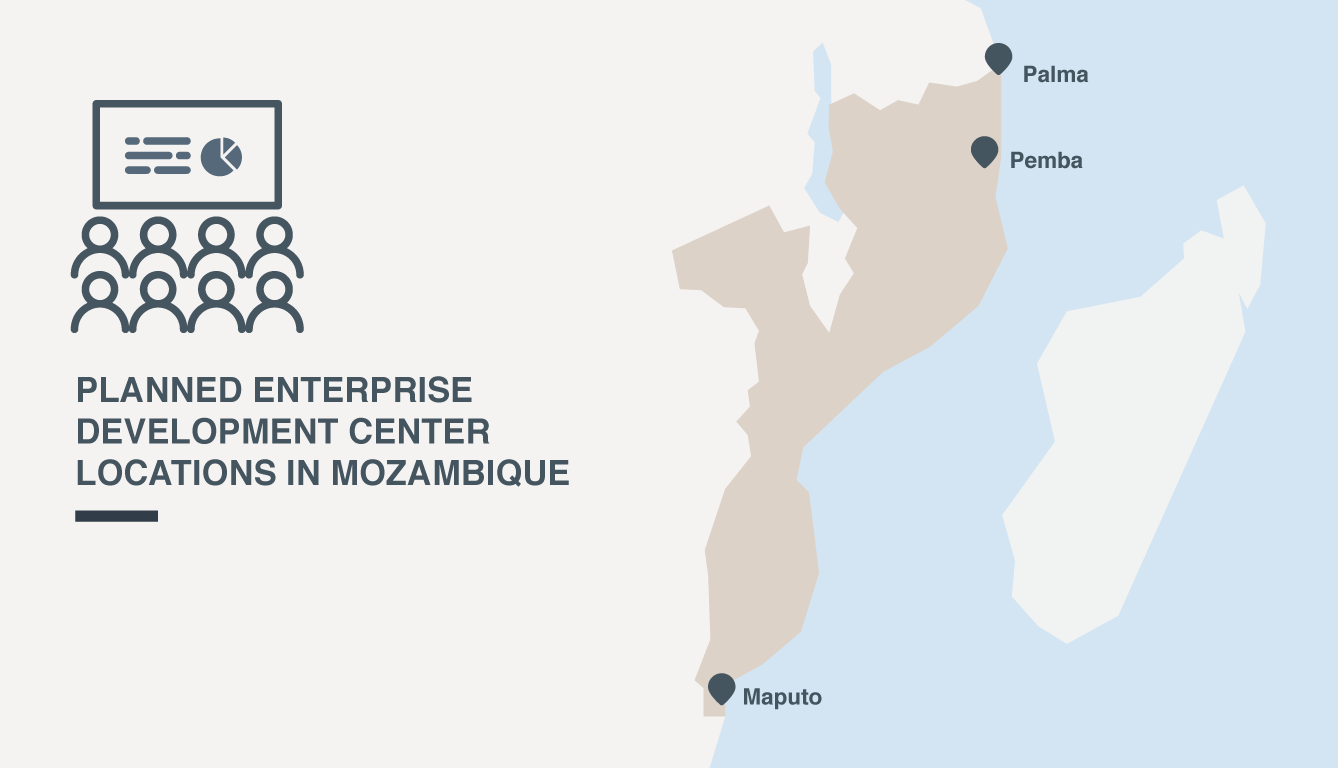 The Center's first office is expected to open in Maputo in the first half of 2020, with offices in Pemba and Palma to follow.
Mozambican companies will receive personalized feedback to highlight strengths, identify opportunity areas, and receive practical recommendations for overall capacity development. The EDC will also host seminars, business training sessions, and information on project and contractor procurement procedures.
The partners of Area 4—a deepwater block containing 85 trillion cubic feet of natural gas that will sustain a world-class liquified natural gas (LNG) project—are investing $3 million to establish and operate the EDC for its first year. Area 4 is operated by Mozambique Rovuma Venture, an incorporated joint venture owned by Eni, ExxonMobil, and CNPC.
"We are committed to prioritizing local procurement for Rovuma LNG," said Jos Evens, General Manager for ExxonMobil Moçambique. "The EDC will assess the capabilities of local suppliers and prepare them to compete both nationally and internationally."
DAI is a global leader in developing local content (the added economic and social value brought to a host nation through the activities of the oil and gas industry). Since 2017, DAI has operated a similar center in Guyana, which has linked local providers to supply chain opportunities and provides business training, mentorship, and industry analysis.
DAI's Sustainable Business Group supports private companies to be smarter corporate citizens in their local business operations and assists public authorities to develop policy, regulation, and incentives that grow sustainable industries.