May 07, 2018
The U.S. Agency for International Development (USAID) has selected DAI to lead the Nguriza Nshore program in Rwanda. Nguriza Nshore—Kinyarwanda for "lend so that I may invest"—is a five-year project to support small-business growth in rural areas and create long-term jobs outside of farming.
Rwanda's economic gains of recent years have not translated to widespread job creation as a majority of its people still work as farmers or in agriculture-related businesses. A lack of access to finance—especially for women and young entrepreneurs—has constrained the ability of small businesses to expand, provide new and better products and services, and employ more people, especially in rural areas. Rwanda Nguriza Nshore will work on the enabling environment to effectively support small and medium enterprises, both in terms of financial regulatory and business promotion policies.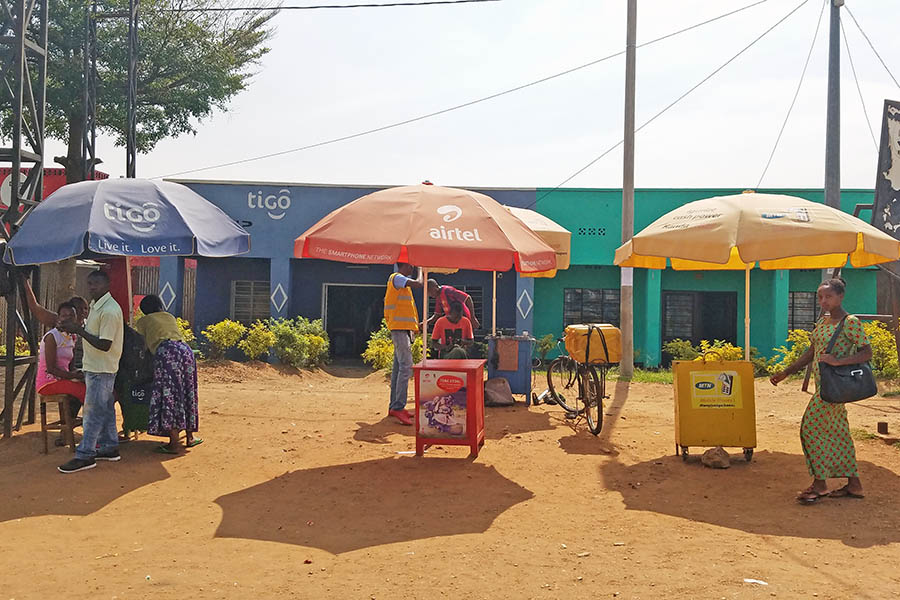 Mobile phone vendors set up shop in a rural village outside of Kigali. Photo Credit: Adam Fivenson, DAI.
The Nguriza Nshore team will launch a Catalytic Growth Facility that will work with financial institutions, government ministries, business development service providers, and others to co-create and scale activities that strengthen Rwanda's investment and entrepreneurship ecosystem. These may include de-risking new loan products for small businesses, analyzing market opportunities for rural businesses, and developing credit-scoring tools that target women and youth. The project team will also investigate creating a securitization market that would utilize assets from Rwanda's $500 million public pension fund to invest in the private sector. In all, the team aims to bring $15 million in debt financing and $30 million in investment to small and medium-sized non-farm agribusinesses while creating more than 30,000 jobs for rural Rwandans.
"Rwanda deserves much credit for its improved economic standing over the past 20 years," said DAI's Mark Rostal, the project's Chief of Party. Rwanda's gross domestic product growth averaged approximately 6 to 8 percent between 2004 and 2017, contributing to a 20 percent reduction of poverty rates, while improving its Doing Business ranking to 41st in 2018 from 158th in 2005.
"The country is also keen to deepen its economic results and deliver them more broadly," Rostal said. "Nguriza Nshore represents innovative thinking in utilizing donor assistance to crowd-in financing from the private sector. This will catalyze new partnerships, investment, dialogue, and reforms that stimulate inclusive growth for Rwandans."
The BiD Network and Aspen Network of Development Entrepreneurs will partner with DAI on Nguriza Nshore activities.
DAI leads projects in many countries for USAID and other clients to promote business growth, as well as USAID's global INVEST Project that mobilizes capital to invest in agriculture, water and sanitation, trade, health, energy, and other sectors. DAI began managing projects in Rwanda in 1986 and most recently led the Human and Institutional Capacity Development Project there for USAID.