September 09, 2019
DAI today announced the appointment of Tine Knott to lead its U.S. Government Business Unit. As Senior Vice President, Knott will oversee DAI's largest business unit, which is responsible for designing, marketing, and delivering DAI's development solutions for the U.S. Agency for International Development (USAID), the State Department, and other U.S. agencies.
---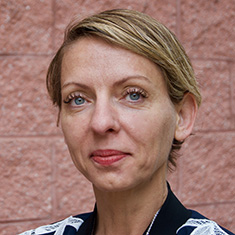 "Our clients have challenged us to do more to help emerging countries along the path to self-reliance," said Knott. "I am personally committed to following through on this vision by providing the technically advanced, well implemented, locally driven programming that makes a meaningful difference in the communities where we work."
---
Knott previously served as Vice President of DAI's Center for Secure and Stable States, which she launched in 2017 with a mission to raise the bar for development and security programming in fragile environments.
"Tine is fiercely committed to development and she leads from the front," said Zan Northrip, Executive Vice President, Development Partners Group. "She's a team builder, a problem solver, and a dynamic personality. We look forward to seeing her creativity find further expression not only in USG but across the company."
Knott joined DAI in 2011. Between 2013 and 2017, she served as the Managing Director for DAI's work in governance, transition, and stability, where she led the company's portfolio covering good governance, stabilization, political transition, countering violent extremism, peace building, citizen security, and public financial management.
Before joining DAI, Knott spent 15 years with USAID, including in Ghana, Jordan, Mozambique, and Peru, as well as Washington, D.C. In her final USAID assignment, as the Senior Development Advisor in Jordan, she developed cross-sectoral and politically sensitive programming in human rights, good governance, and poverty, and was responsible for managing relationships with host government counterparts, other U.S. government agencies, civil society, and the media. She has also taught at the University of Ibadan in Nigeria.