April 08, 2019
DAI's education practice recently hosted panel discussions and a networking event on the subject of inclusive education. While the discussions were wide-ranging, there was consensus that education programs should make inclusion integral to their activities. The event was co-sponsored by the Basic Education Coalition and the Global Campaign for Education.
"We need to understand that when we do not address the needs of a specific sub-population, we endorse exclusion," said DAI's Education Senior Global Practice Leader Sakil Malik.
The first panel—Policy Perspective on Increasing Inclusiveness—included representatives from the U.S. Agency for International Development (USAID) education practice, Inclusion International, the Global Campaign for Education-U.S. Community of Practice on Inclusive Education, and DAI education experts.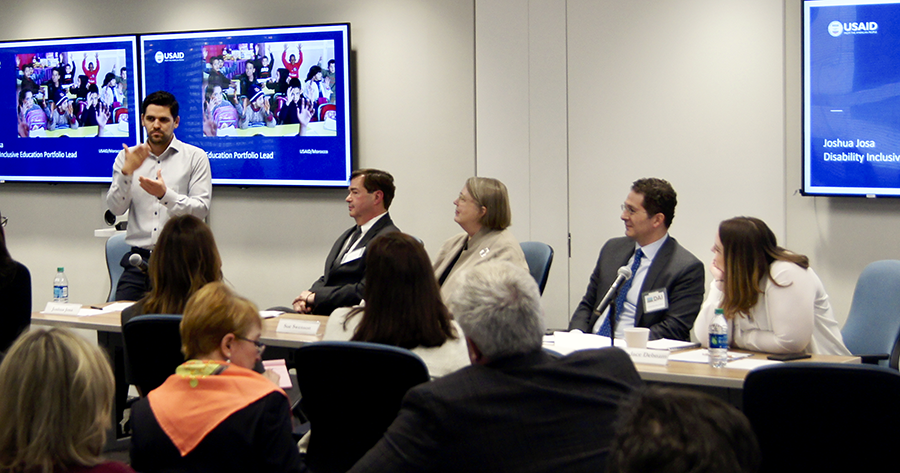 Panelists, from left, included USAID's Josh Josa, Global Campaign for Education's Jerry Mindes, Inclusion International's Sue Swenson, DAI's Antonio Iskander, and moderator Basic Education Coalition's Candance Debnam.
Panelists discussed how violence in conflict-affected countries hinders children's education and increases the number of dropout students, how disabled children are still inadequately served and largely excluded from the education sector, and how good policies are rendered ineffective if they lack the tools to measure their success.
"We need to facilitate processes at national levels to examine policies, refine them, and implement information sharing, training, and resources to address them," said Malik. "We insist on accountability for the learning of all students—in government and from donors."
On the second panel—featuring USAID, Benetech, DAI, and independent consultants—specialists shared best practices and approaches from the field.
Stay tuned for an upcoming white paper on the discussion findings and follow along on Twitter with the #InclusiveEducation hashtag.
In 2018, DAI launched its education practice to strengthen the provision of high-quality, inclusive education for children and youth around the world. DAI works hand-in-hand with educators, policy makers, communities, and stakeholders to implement local solutions, borrowing and building on ideas and innovations from across sectors and working to understand education systems as a whole. DAI supports partner countries to create safe learning environments for students of all ages to help them acquire 21st-century skills—literacy, STEM, vocational skills, and critical thinking—and promote their self-reliance.