March 22, 2019
Bethesda, Md.—DAI Global Health and ClickMedix today announced a partnership under which DAI will make a strategic investment in ClickMedix, a leading provider of mobile health and technology services. In turn, ClickMedix will deepen its existing relationship with DAI Global Health to enrich the DAI service offering and take advantage of DAI's extensive international network and growing portfolio of projects in global health and digital acceleration.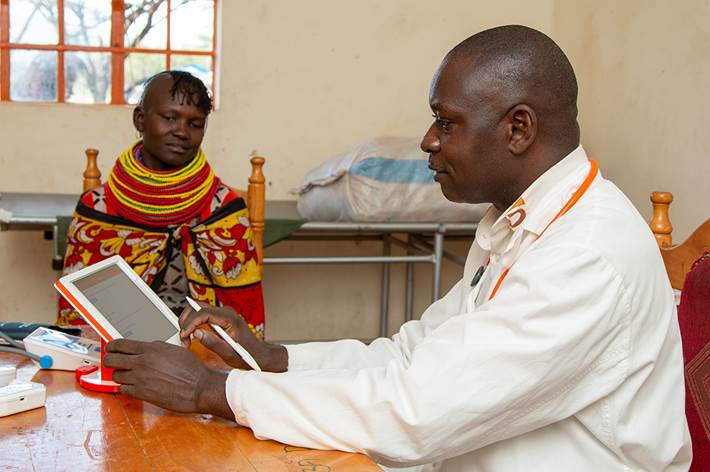 Health practitioner using ClickMedix's mHealth kiosk to manage patient care in rural Kenya.
ClickMedix is a social enterprise dedicated to bringing affordable, high-quality health services to under-served populations. Using a mobile platform that integrates artificial intelligence, point-of-care devices, and data analytics to facilitate diagnosis, predict disease pathways, and tailor ongoing patient care, the company enables health organizations and their frontline health workers to reach more patients while guiding patients to find and afford optimal treatment options—making the goal of universal healthcare steadily more feasible.
ClickMedix has directly benefitted 500,000+ people in 21 countries to date, and aims to add 2 million more this year.
"We envision a world where everyone—regardless of income, gender, race, or social status—has easy 'one-click' access to effective healthcare," said Ting Shih, founder and Chief Executive Officer of ClickMedix. "DAI Global Health shares our vision for transforming the economics of healthcare through next-generation technology. We are delighted to take this next step in our collaboration."
DAI Global Health and ClickMedix first connected through the Innovation into Action Challenge, a competition designed to surface innovative, high-impact ideas, products, and services in the field of international health and development. As a Challenge winner, ClickMedix worked with DAI on field tests in Jordan, subsequently introduced its mHealth platform to the health insurance industry in the Middle East and North America, and is expanding into Sub-Saharan Africa and Latin America.
"We are seeking to create holistic, tech-enabled solutions that save lives and improve well-being on a global scale," said Chris LeGrand, President of DAI Global Health. "ClickMedix's technology—in particular its mHealth marketplace capability, which extends the reach of both public- and private-sector healthcare services while helping patients find affordable and effective healthcare—offers game-changing possibilities for integrated health programming in emerging and developed nations, as well as market-driven, patient-centered solutions around the world. In strengthening the bond between our two organizations, we are raising the bar for what both can achieve in terms of global health outcomes and the path toward universal health coverage."