August 23, 2019
DAI's Senior Global Practice Leader for Education, Sakil Malik, was a keynote speaker at the recent 11th Pan-African Literacy for All summit in Kampala, Uganda, where he emphasized the importance of inclusive education.
The three-day summit, organized by the Reading Association of Uganda and the Education Ministry, brought together researchers, policy makers, sociologists, multilateral partners, curriculum specialists, and literacy educators to share evidence-based findings, practices, and policies that address the role of literacy in bridging the equity gap.
At least 500 delegates from more than 40 countries, mainly from Africa, attended. The summit was opened by Minister of State for Primary Education Rosemary Seninde and Minister for Education and Sports Janet Museveni. An evening discussion with Uganda's President Yoweri Museveni was a conference highlight.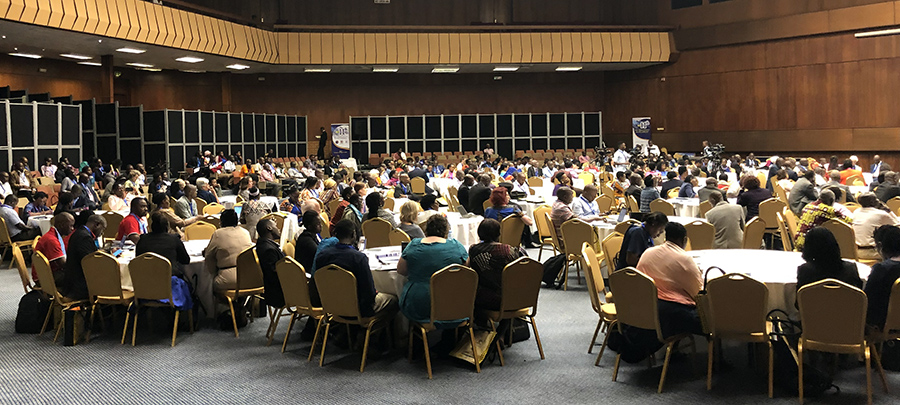 In his speech, Malik acknowledged that while there is broad support for the idea of inclusive education, we're still far from achieving these goals in most countries and communities around the globe. He recommended that in its efforts to improve inclusivity in the education sector, the global development community focus on:
Health and psychosocial interventions that identify students who need additional support;
Nutrition interventions that help all students learn better;
Community engagement interventions that involve parents; and
Governance programs that protect and grow domestic revenue to ensure that education is a right that can be enjoyed by all students regardless of their economic status or any aspect of their identity.
"We need to understand and lean into the idea that all of these recommendations are interrelated and have an impact on each other," Malik said. "Implementers and policy makers need to continue to contribute to this conversation as we move the discussion forward."
Conference discussions revolved around sub-themes including literacy teaching and coaching across the curriculum, early childhood teaching and learning, gender and sustainable literacy equity, and literacy curricula for equitable student achievement.