February 28, 2023
Back in 2018, Nigeria declared a State of Emergency in the water, sanitation, and hygiene (WASH) sector. Following that declaration, the federal government launched the National Action Plan for the Revitalization of the WASH sector and introduced a National Water Resource Bill—committing to ensure universal access to WASH services for all Nigerians.
Just last month, with assistance from the U.S. Agency for International Development (USAID)-funded State Accountability, Transparency, and Effectiveness (State2State) Activity, Akwa Ibom State passed the Water Resource Bill into law, becoming the first state in the country to adopt the national version of the bill at the state level.
"This new law will guarantee budgetary commitments to service delivery in the water sector for millions of citizens," said State2State Chief of Party Hugh Brown.
Initiated in 2015, the Akwa Ibom State Water Resource Bill was dormant for many years. But over a 13-month period, the State2State Activity collaborated with civil society organizations, state government counterparts, and other key stakeholders to revive this vital legislation. As part of its objectives, State2State supports strengthened governance structures in six Nigerian states to improve their ability to plan and budget, raise revenues, increase civil society participation, and oversee service delivery in the health, education, and WASH sectors.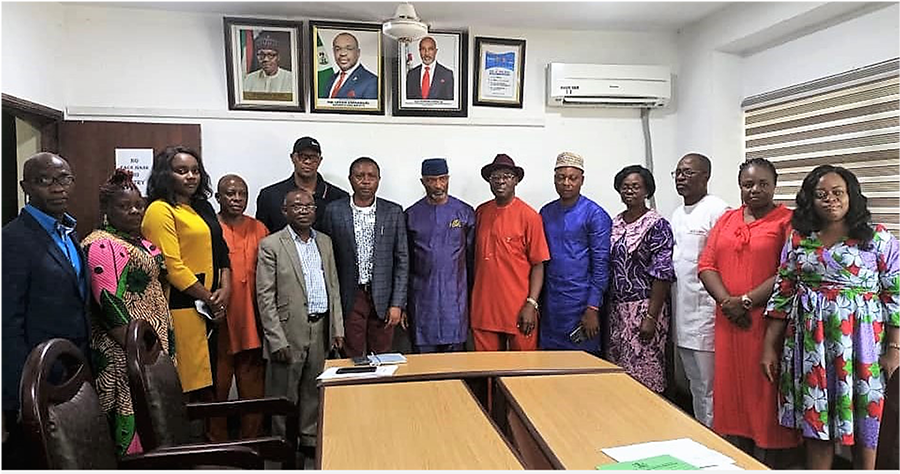 Representatives of State2State Akwa Ibom Field Office, AKRUWATSAN, Akwa Ibom Water Corporation, Biakwan Light Green Initiative, and WASH cluster civil society members during an advocacy visit on passing the water bill into law with the Commissioner of the Ministry of Land and Water Resources. Photo: USAID State2State.
State2State provided technical assistance and grant funding to the Biakwan Light Green Initiative, an indigenous policy advocacy organization, to spearhead this initiative. With the Activity's support, the organization worked with the Akwa Ibom State Rural Water Supply and Sanitation Agency (AKRUWATSAN), Akwa Ibom Water Corporation, and the state's WASH cluster civil society groups to review the water bill and facilitate public hearings to solicit citizens' input. This assistance was followed by joint advocacy and consultation with government officials from ministries, departments and agencies, local government areas, the traditional rulers' council, and the private sector.
"We appreciate the efforts of State2State, through USAID, who facilitated the process," said Peter Bette, Executive Director of the Biakwan Light Green Initiative. "We worked assiduously as a team to ensure that Akwa Ibom State has a workable document that will translate into access to and availability of water, sanitation, and hygiene for all citizens of Akwa Ibom State."
The Water Law provides a framework for the management, regulation, and oversight of the state's water resources. It will establish the Water Sanitation Agency, Water Council, Regulatory Commission, and an autonomous Ministry of Water Resources at the state level as well as WASH departments at the local government level. The law will contribute to WASH sector development by guaranteeing state government expenditure to ensure a reliable and healthy water supply and sanitation services for Akwa Ibom's growing population. These commitments will increase public access to water resources and WASH services by revamping the water infrastructure in urban, peri-urban, and rural areas, providing more boreholes in communities, and improving water and sanitation facilities in schools and public health facilities.
"State2State helped us improve relationships and engagement with civil society groups in the WASH sector," said Acting General Manager of AKRUWATSAN, Savior Udo. "[The project team] played a major role in reviewing the water policy and ensuring inclusivity of stakeholders to review the bill. They were with us when we presented the water bill to the State House of Assembly."
State2State will continue to support the Akwa Ibom State WASH civil society groups to carry out their action plans and ensure that the new law is effectively implemented. It will also support the organizations in addressing other public service delivery issues through engagement with state and local government officials.