March 15, 2017
The American Apparel and Footwear Association (AAFA), which represents more than 1,000 brands generating $361 billion in annual U.S. retail sales, has signed a partnership agreement with the East Africa Trade and Investment Hub (Hub) to address constraints to competitiveness and expansion of the industry in East Africa. The partnership is projected to create up to 45,000 labor jobs in East Africa as well as jobs in the United States in trade, advertising, logistics, distribution, and retail.
The partnership will also work to institutionalize workplace standards required by U.S. importers. The agreement was forged by the Hub, a five-year program to bolster trade and investment that is funded by the U.S. Agency for International Development (USAID) and implemented by DAI. The partnership was announced in February in Las Vegas, Nevada, at MAGIC, the largest apparel trade show in North America.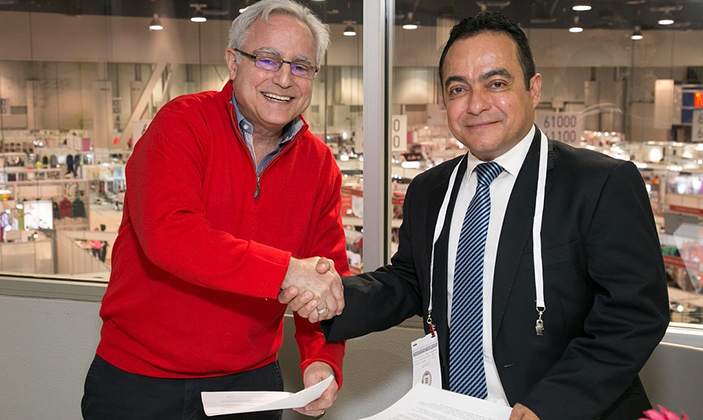 AAFA President and CEO Rick Helfenbein, left, with DAI's Juan Estrada-Valle after signing the partnership agreement.
"The American apparel, footwear, and travel goods industry has an interest in ensuring that U.S. brands and goods are manufactured in accordance with best-in-class practices," said AAFA President and CEO Rick Helfenbein. "We are pleased to partner with USAID's East Africa Trade and Investment Hub on this important initiative."
"This partnership constitutes, in essence, the formalization of a symbiotic relationship between the U.S industry and East Africa," said DAI's Juan Estrada-Valle, Hub Chief of Party. "Trade expansion, job creation, and economic growth will be the primary results for both."
The Hub represents the flagship U.S. Government program for advancing trade that generates new markets for East African goods, creates jobs, and makes the business environment more attractive for private and foreign investment. The program also supports food security by facilitating much-needed trade across East Africa of staple foods such as cereals and pulses, and by creating nonfarm jobs that increase the incomes and resilience of rural households.
Win-Win for United States, East Africa
The AAFA will represent the U.S. apparel industry by engaging East African governments and leading private sector engagement. The agreement with AAFA also marked the launch of the Hub's East Africa Cotton, Textile and Apparel Industry Expansion Initiative to introduce: 1) sustainable workforce development programs, 2) trade policy conducive to industry expansion, and 3) labor, social, and environmental standards.
Developing the Necessary Workforce
In Kenya, approximately 800,000 young people enter the labor market every year, and 80 percent of unemployed Kenyans are below 35 years old, according to Sicily Kariuki, cabinet secretary for youth and gender affairs in the Ministry of Public Service. "The challenge of youth unemployment is compounded by the fact that 90 percent of all unemployed young people lack vocational skills," she said.
The Hub partners are recruiting and equipping young men and women with technical and soft skills to become productive textile workers, reducing staff turnover and enabling young people to become responsible community members. Workforce development has already begun in Kenya, where Hub partners will train the first 2,000 sewing machine operators this year.
As the industry realizes the return on investment, the Hub and partners plan to scale up and roll out the program to Ethiopia, Rwanda, Tanzania, and Uganda to create a sustainable model for workforce development that provides American companies with competitive sourcing destinations.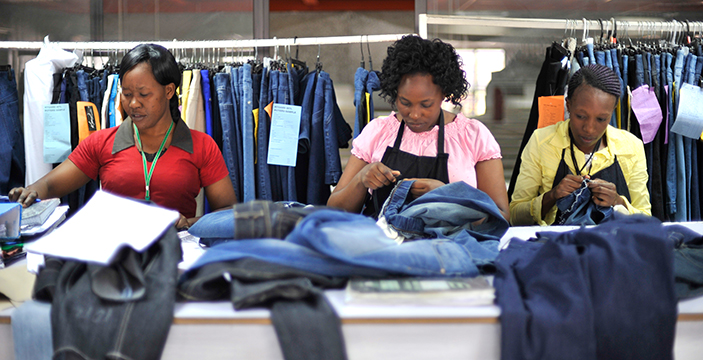 Forging Policy for Trade, Investment
The Hub is assisting governments to enact trade-friendly policies and regulations. For example, Hub-supported initiatives are promoting guaranteed access to reliable electricity in export processing zones, and the upholding of commitments under the East African Community Protocol, which calls for free movement of goods, services, and capital across the region.
In the apparel, footwear, and travel goods industry, East African companies struggle to obtain work permits for their foreign specialists. By April 2017, the cost of these work permits in Kenya will be reduced from $4,000 per year—with months of paperwork and follow-up—to $10 per year and permits issued within two weeks.
Harmonizing Standards for Better Business
The Hub is assisting East African governments and businesses to institutionalize labor, worker safety, social, and environmental standards required by AAFA members and others. Harmonizing and championing a uniform set of standards will benefit U.S. apparel companies committed to sourcing from East Africa. The East African apparel sector's ability to attract investment and sourcing depends on an attractive formula of policy, capacity, standards, and access to affordable inputs and services. EATIH is working to ensure the East African public and private sectors secure this formula.