June 19, 2023
The MozUp Enterprise Development Center (EDC) in Mozambique has officially launched its second office. The new office, in Pemba, will provide training to local small and medium-sized enterprises (SMEs) in Cabo Delgado and neighbouring provinces in the north of the country.
The Pemba office has been open since May 2, but an official launch event was hosted on June 14 by ExxonMobil Moçambique, Limitada, on behalf of the Area 4 partners. The event was attended by several high-level provincial officials, including His Excellency Valige Tauabo, Governor of Cabo Delgado; Joaquina Abdalberto, Pemba District Administrator; Nocif Magaia, Provincial Director of Industry & Commerce; and João Buchili, Palma District Administrator. The event was also attended by all Area 4 partners of the Rovuma basin; sponsors of MozUp, including ExxonMobil, Eni, CNPC, ENH, Galp, and Kogas; and representatives from the private sector and civil society.
"The enterprise development center will play an important role in strengthening the capacity of Mozambican companies in Cabo Delgado," said Governor Tauabo. "Through trainings that they'll receive, they will become more competitive at a national level and potentially beyond our borders."

"As I was walking through the Center today during the official visit, I paid attention to the environment to see if it was really conducive to learning and knowledge transfer for SMEs. I can tell you that it certainly is. The environment is created in such a way that just by registering with MozUp, you come out winning," added Tauabo.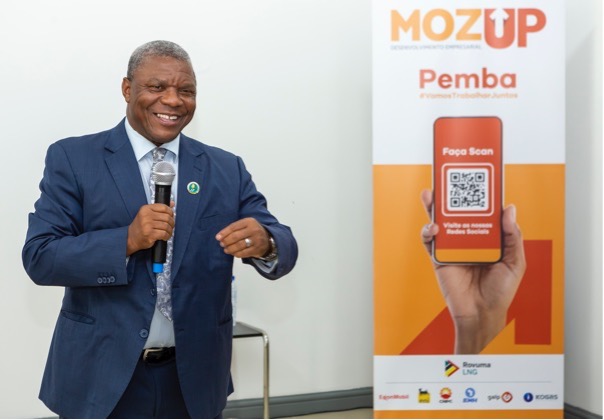 Valige Tauabo, Governor of Cabo Delgado.
Launched in Maputo in 2020, the MozUp EDC will extend training, advisory, and mentorship opportunities to businesses in Cabo Delgado and neighbouring provinces, to assist them in qualifying and competing for key growth opportunities across the Mozambican economy.
"We are delighted to launch our second Center in Pemba," said Barbara Habib, MozUp's Director. "Our second office will allow us to expand our impact and create a more competitive and capable marketplace across growing sectors of the Mozambican economy. Since we launched MozUp in Maputo in 2020, we have been supporting SMEs virtually throughout the country, and in-person in Maputo. Our plan has always been to establish a physical presence in Cabo Delgado, and we are so excited to have reached this milestone. We have already seen the additional impact of our physical presence in Pemba, making us more accessible and relevant to local SMEs."
MozUp has developed training curricula and service offerings tailored to the Cabo Delgado context, with a focus on training in procurement, health and safety, and financial management, as well as general industry-focused trainings to help companies understand the LNG projects and upcoming opportunities.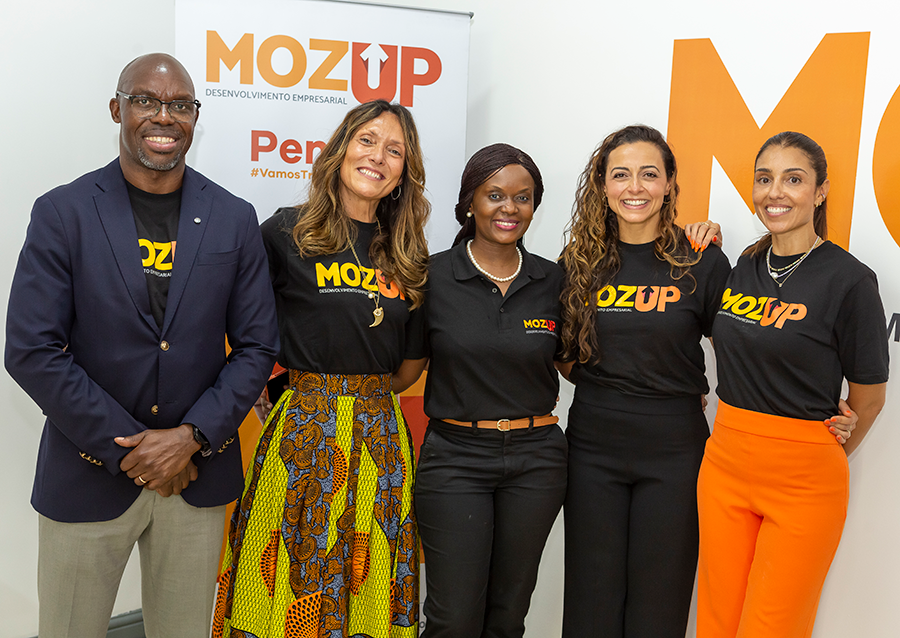 Team MozUp (L to R): Benjamin Nanda, Taciana Peão Lopes, Luidmila Comé, Barbara Habib, Djamila Carvalho.
Since MozUp's launch in 2020, 955 companies and 2,151 persons have participated in the 149 trainings delivered across key areas identified as challenges to Mozambican firms, and 6 companies have been mentored for compliance and certification in ISO standards. Additional services include implementing business assessments and strengthening plans, advising on accessing capital and financial services, and fostering business-to-business partnerships.
To date, 55 percent (or 1,404) of the 2,559 suppliers registered in the Area 4 and Rovuma LNG supplier registration portal are majority Mozambican-owned entities.
Bene Junior of Cohima, a civil construction and engineering company, addressed the launch event in Pemba. Since 2020, 31 Cohima staff have participated in MozUp activities in Maputo, and more recently in Pemba.
Junior told the audience that the trainings have helped elevate the skills and know-how of Cohima staff, which it considers to be the key factor in its growth. The quality of Cohima's proposals has improved significantly as a result of the training, which has enabled the firm to win three large contracts in Cabo Delgado, including one with TotalEnergies.