March 08, 2023
The Digital Impact Advisory Fund (DIAF) has opened applications for its second round of funding for Caribbean businesses that support the digitalization of regional micro-, small-, and medium-sized enterprises (MSMEs). The second round of grants is focused on supporting established businesses with existing customer bases. The application period is open until April 3, and businesses from Belize, Dominica, Grenada, Guyana, Jamaica, and Trinidad and Tobago can apply here.
"Caribbean MSMEs have unique challenges and ways of working that are not always aligned with the existing digital tools and software on the market. The DIAF aims to address this gap by supporting Caribbean entrepreneurs as they scale their business and designing digital B2B solutions with the needs of Caribbean MSMEs in mind," said grant manager Katie Vaughan.
Part of IDB Lab's EcoMicro portfolio of projects, the fund provides tailored support to help businesses with a financial product or service introduce digital solutions to their clients and increase the digitalization of MSMEs in the region.
"Digital solutions, especially fintech, are key to spurring economic growth and strengthening resilience and productivity for businesses and their MSME clients," said DAI project lead Belem Saucedo. "We look forward to working with some great digital innovators in this second round and helping more MSMEs incorporate B2B technology".
As the fund's executing agency, DAI provides technical support to the selected grantees and ongoing project impact reporting.

EzeePayments is a good example of the companies that won grant funding in 2022. EzeePayments allows businesses to improve the purchasing experience for their customers by facilitating online payments. The DIAF grant funded behavioral science research leading to recommendations that, if implemented, will help EzeePayments increase the number of transactions conducted through its platform and onboard more merchants.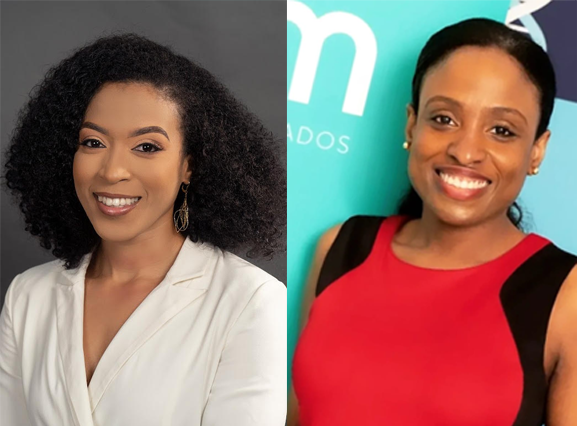 Safe Haven founder Angenie Abel and BitEgreen founder Simera Crawford
BitEgreen Market, another grant recipient, offers a technology that aims to improve the operational efficiency of businesses integrating environmental preservation and other sustainable livelihood actions into mainstream society. DAI is helping BitEgreen refine its intellectual property strategy to better scale the business as its mobile application launches.
"It has definitely improved my business mission, which falls under preserving the well-being of nature," said BitEgreen founder Simera Crawford. "Any system that helps to improve the monitoring and successful implementation of this project can only add to this success."
Safe Haven is developing a digital platform that connects freelance caregivers to families seeking child or senior care—the first app of its kind in Guyana. DAI is working with Safe Haven to recruit consultants who could support application development, develop safeguarding policies, and advise on intellectual property.
Safe Haven founder Angenie Abel said the project had been key in advancing the company's business mission "by enabling us to develop a mobile application that streamlines our operations and enhances our customer engagement. We'll be able to reach a wider audience, expand offerings, and improve overall efficiency."