May 03, 2018
In honor of Agriculture and Labor Day, the President of the Republic of Haiti, Jovenel Moïse, recently visited the Appui a la Valorisation du potentiel Agricole du Nord, pour la Securite Economique et Environnementale (AVANSE) exhibition at the Agricultural Fair held in northeast Haiti. He was accompanied by First Lady Martine Moïse; the President of the Superior Council of the Judiciary, Jules Cantave; the Minister of Agriculture, Natural Resources and Rural Development, Joubert C. Angrand; and other government officials.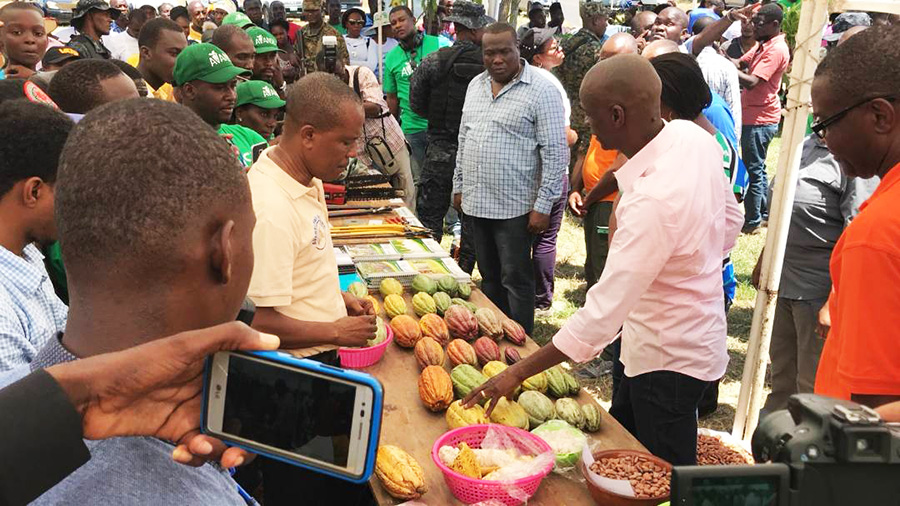 Moïse visited the AVANSE infrastructure, natural resource management, plantain, commercialization, rice, and cocoa stalls where he chatted with technical leads and technicians. At the natural resource management stall, he asked to visit conservation blocks where the DAI-led and U.S. Agency for International Development-funded project implements soil conservation activities.
At the cocoa exhibit, Moïse spoke with agronomist-engineer Raoul Jean Dominique about cocoa varieties and the grafting process, and received copies of AVANSE technical booklets related to cocoa grafting, pruning, and establishing nursery and cocoa orchards.
While at the infrastructure stand, Moïse took a copy of the topographic studies of rivers of the Nord and Nord East departments. These studies were commissioned by AVANSE and focus on intervention rivers in Trou du Nord, Haut du Cap, Grande Rivière du Nord, Jassa, and Marion.
Moïse visited the fair after officially commencing work at the hydroelectric dam on the Marion River, Terrier Rouge, in the northeast.
The May Fair was held under the theme "Manage our waters to increase national production," and brought together projects and partner institutions of the Ministry of Agriculture, including the United Nations Food Organization and Agriculture and the Strengthening Public Agricultural Services Project.
AVANSE works with farmers and the private sector to address key constraints within production and value chains, from improving watershed stability and irrigation infrastructure to increasing direct access to buyers of produce.