February 08, 2022
On February 4, Haitian Prime Minister Dr. Ariel Henry declared the country free of cholera—nearly 12 years after the outbreak of the epidemic. Cholera is an acute diarrheal disease spread through unsafe water and sanitation.
Starting in 2010, cholera spread quickly throughout Haiti, ultimately leading to some 820,000 cases and nearly 10,000 deaths. The Haitian president declared a state of emergency and requested international assistance. The U.S. Government was already providing significant aid after the January 2010 earthquake and further increased assistance in response to the outbreak.
Since that time, investments and activities by the U.S. Agency for International Development (USAID)—including the DAI-led USAID Water and Sanitation Project—continued to help ensure that cholera did not return to Haiti. The country's last confirmed case was recorded on February 4, 2019. Per World Health Organization standards, a country can be declared cholera-free three years after its last confirmed case.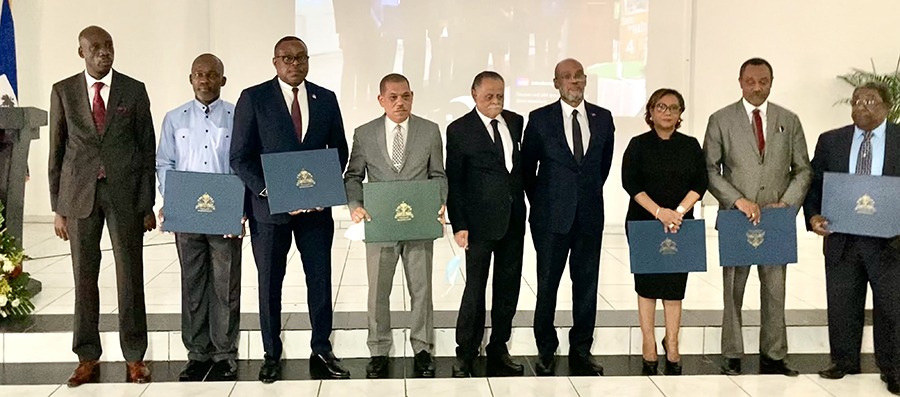 Prime Minister Dr. Ariel Henry (fourth from the right) and Minister of Health, Dr. Alex Larsen (fifth from the right) along with DINEPA Director Guito Edward (second from the left) at the event honoring those who fought to end the cholera outbreak. Photo: Dan O'Neil.
At a ceremony announcing this achievement, Guito Edward, the General Director of Haiti's Directorate of Potable Water and Sanitation (DINEPA), mentioned the significant improvements in the water and sanitation sector, including the expansion of piped water networks and the opening of fecal sludge management sites at Morne-a-Cabri and Fonfred, facilitated by DAI. Since 2017, the DAI-led team has been focusing on four target urban communes, helping 300,000 people gain access to improved water services and 75,000 people gain access to improved sanitation services.
"COVID-19 has reminded us that public health measures rely to a large degree on public understanding and participation," said USAID Water and Sanitation Project Chief of Party Dan O'Neil. "This achievement is due to the careful planning of the Haitian government, the commitment of the Haitian people, and the generosity of international donors."
The project also has been working with DINEPA to put in place systems that not only ensure better service but that have resulted in a 30 percent increase in the overall local water utilities' revenues—ensuring sustainability.