November 15, 2022
Citing his administration's efforts to fight corruption and improve governance, Nigerian President Muhammed Buhari recently opened the 3rd Ministerial Performance Review Retreat, an event facilitated by the Partnership to Engage, Reform, and Learn (PERL) project, which is funded by the U.K. Foreign, Commonwealth & Development Office.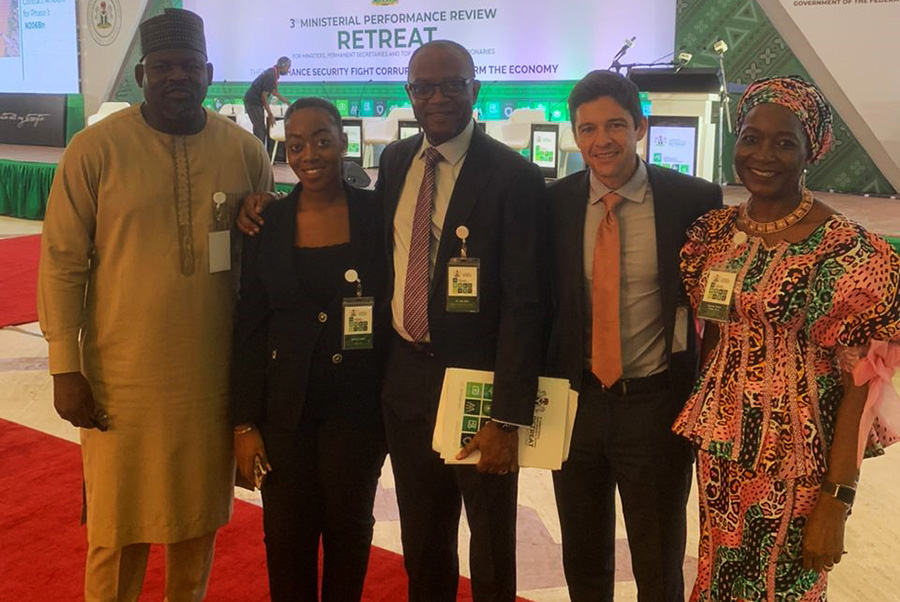 From left, Umar Abu, PERL-ARC Federal Lead; Nnenna Abah, FCDO Partnership for Learning for All project; Abah; Nate Bourns, DAI Senior Vice President of Geographic and Digital Platforms; and Nguyan Feese, Education Consultant.
"As an administration, we are unwavering in our fight against corruption," he said. "We will continue to review and prosecute high-profile corruption cases and ensure speedy completion." The retreat—themed "Enhance security, fight corruption, transform the economy"—was held in Abuja to review the progress the Nigerian Government has made since the last such forum in October 2021. In addition to President Buhari, attendees included the former President of Kenya, Uhuru Kenyatta, the leadership of Nigeria's National Assembly, all members of the Federal Executive Council, and the Defense Chiefs, among others.
DAI's Country Director in Nigeria, Dr. Joe Abah, moderated a panel focused on fighting corruption. During the discussion, Dr. Fred Okengo Matiangi, former Chair of the Cabinet Committee of Kenya, shared his experience on what matters most in entrenching governance reform during periods of transition. Reformers should put more emphasis on the prevention of corruption than its prosecution, he said, adding that addressing the predisposing factors and systemic gaps that enable corruption is critical.
PERL helps governments develop and implement policy by assisting them in tracking and accounting for how policies, plans, and budgets are used in delivering public goods and services to promote growth and reduce poverty. It also supports citizens to engage with these processes. PERL is implemented through coordinated "pillars" that together support sustainable service delivery reforms. Pillar 1—Accountable, Responsive, and Capable Government—is led by DAI.