DAI's Sakil Malik Presents Recommendations for Improving STEM Education in Oman
January 25, 2019
Sakil Malik, DAI's Senior Global Practice Lead for Education, has urged leaders in Oman to reconsider how their schools approach teaching science, technology, engineering, and math, known as STEM.
"Few Omani students today pursue expertise in STEM fields, even though the Oman 2040 Vision calls for the country to become a regional and global leader," said Malik, who addressed this week's International Conference of the Fourth Industrial Revolution in Suhar, Oman. "It is crucial for youth to be equipped with the knowledge and skills to solve tough problems, gather and evaluate evidence, and make sense of information. These are skills that students learn by studying the subjects collectively known as STEM."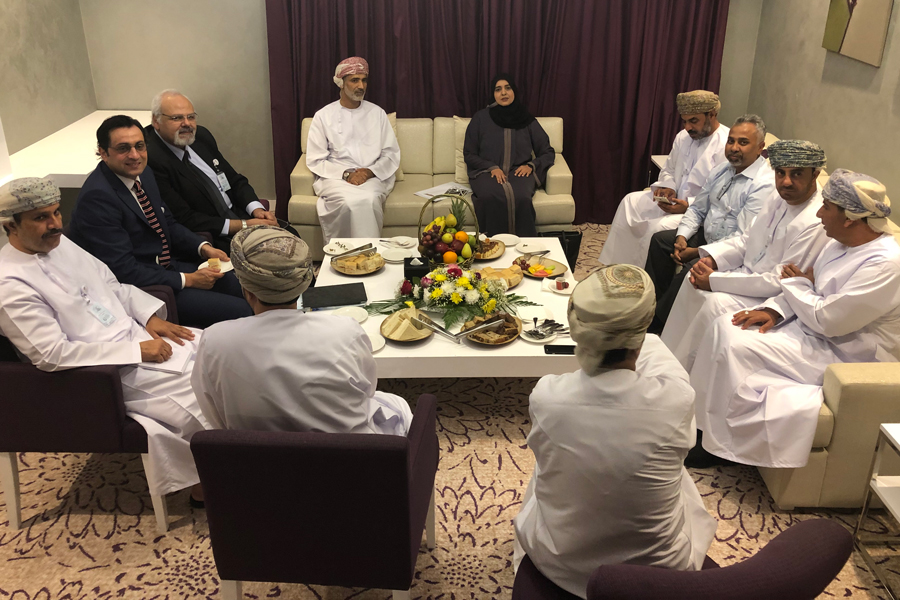 DAI's Sakil Malik, third from right, with members of Oman's Supreme Education Council and senior staff.
Malik has led education initiatives for 20 years in countries such as Cambodia, India, Tajikistan, Tanzania, and Timor-Leste. To improve STEM education in Oman, Malik recommended:
Creating a community-wide vision for STEM-based teaching supported by businesses, libraries, museums, and community organizations as well as schools.

Making "play" an intentional aspect of teaching because children are attracted to games—including video games—that intrigue them and provide rewards and recognition.

Including exploration and discovery activities in nature.

Using project-based learning that children can pursue in teams and accomplish within a set timeframe.

Incorporating global grand challenges—in food, housing, transportation, climate change, security, and other areas in children's learning—so today's students are better prepared to address real-world challenges in coming decades.

Building flexible learning spaces that integrate tools, games, immersive media, and augmented and virtual reality, as well as accommodating children of varying abilities, including the disabled.
"Oman has an inadequate pipeline of teachers skilled in STEM subjects," Malik noted. "That is why Oman set a priority of increasing the number of students and teachers who are proficient in these vital fields to achieve the success in the Fourth Industrial Revolution."
x
RELATED CONTENT:
DAI's education practice recently hosted panel discussions and a networking event on the subject of inclusive education. While the discussions were wide-ranging, there was consensus that education programs should make inclusion integral to their activities.
Read More