May 10, 2018
DAI Country Director Joe Abah was one of several prominent speakers at Nigeria's Open Government Partnership (OGP) Week. Delivered today at the Barcelona Hotel in Abuja, Abah's address was titled, "To Whom Much Is Given: National Accountability Stewardship and the Role of Public Servants."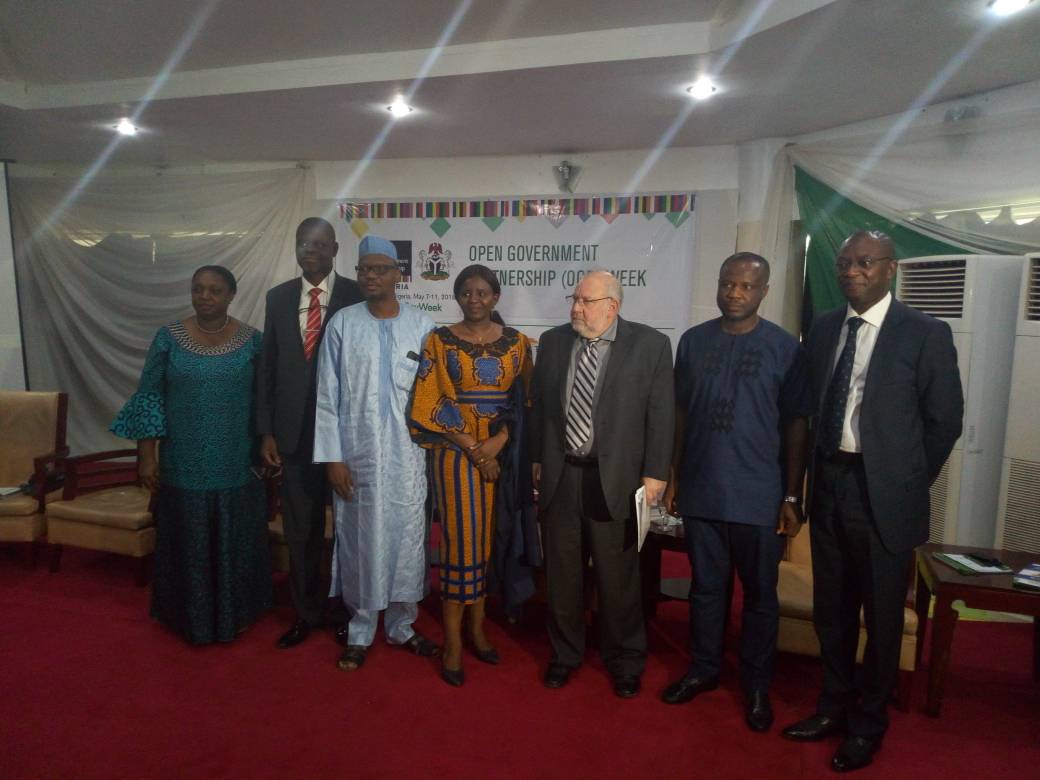 The panel on National Accountability Stewardship at OGP Week, photo courtesy of @ogpnigeria
Defining accountability as "a mutually reinforcing relationship between the donation of power and the responsibilities expected of the exercise of that power," Abah examined how public accountability depends on the interplay between "three constituencies:" people, politicians, and public servants. A former head of Nigeria's Bureau for Public Sector Reform, Abah explores the critical roles played by various groups in society, from citizens and civil society organizations to the media—with a particular focus on the promise of social media to hold those in power to account—politicians, and the civil service.
OGP Week is a global event. Open government leaders, thinkers, and practitioners come together to network, share ideas and experiences, discuss lessons learned, and "commit to new levels of citizen participation in government."
One of more than 700 events held worldwide, Nigeria's OGP Week was opened on May 7 by the Vice President of Nigeria Yemi Osinbajo, who gave a keynote speech on the impact of the Open Government Partnership on Nigeria's anti-corruption efforts. Other notable speakers included the U.S. Agency for International Development's Nigeria Mission Director, Steve Haykin, who reiterated "USAID's commitment to providing support for Nigeria to drive its OGP agenda."
British High Commissioner to Nigeria Paul Arkwright spoke on renewing citizens' trust in government. "Open government is the simple but powerful idea that governments and institutions work better for citizens when they are transparent, engaging and accountable," he said. "It is not a set of lofty principles, but the building block for a more democratic, equal, sustainable and prosperous society."
"The UK has been side by side with Nigeria in this process from the beginning," Arkwright added. "Our Partnership to Engage Reform and Learn (PERL) and Facility for Oil Sector Transparency (FOSTER11) programmes have been supporting Nigeria's effort to open up its institutions and enable those who scrutinise the work of government—legislature, supreme audit institution, civil society, and the media—to hold those in power accountable to citizens. Like in the UK more needs to be done."
x
RELATED CONTENT:
DAI's Margie Cook has been named an Officer of the Order of Australia. Cook was recognized on January 26, Australia Day, for her "service to the international community through the promotion of democratic electoral systems, and to human rights," in a distinguished career that includes work in Afghanistan, Kenya, Nigeria, and Zimbabwe.
Read More