DAI Participates in USAID Frontiers in Development Forum
September 15, 2014
When the U.S. Agency for International Development's Frontiers in Development Forum kicked off September 18 in Washington, D.C., a DAI team was there to help address the forum's driving question—"How will we eradicate extreme poverty by 2030?"
A follow-on to the inaugural 2012 forum, Frontiers convened some of the brightest minds and boldest leaders on ending extreme poverty and laying the groundwork for a broad coalition of committed partners. This major event featured global leaders such as U.S. Secretary of State John Kerry and included two days of discussions, high-profile talks, and interactive panels. There was also an Innovation Marketplace as well as numerous concurrent focus sessions.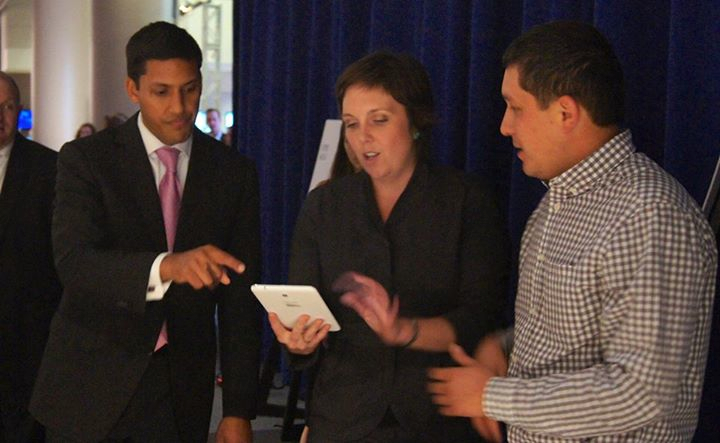 USAID Administrator Raj Shah checks out the MEVA app with Jessica Heinzelman and Sunnat Djalalov at the Innovation Marketplace.
Attendees from DAI included President and CEO James Boomgard and Senior Vice Presidents Jean Gilson and Zan Northrip. DAI's presentations were:
DAI also joined USAID's "tweet brigade" and supported other social media. Featured booth presenters included former Tunisia Transition Initiative Chief of Party Michele Piercey, who discussed "artivism" in Tunisia and Business Systems Analyst Neil Enet who discussed an innovative real-time grants management mobile application in Southern and Eastern Africa.
x
RELATED CONTENT:
DAI and THINKMD today announced a strategic partnership that will use DAI's extensive international network to bring THINKMD's digital health products to new markets. As part of this partnership, DAI led THINKMD's latest financing round, joined by Fresh Tracks Capital and select private investors.
Read More