DAI Names Sarah Helmstadter to Lead Global Workforce Function
May 20, 2020
DAI is pleased to announce the appointment of Sarah Helmstadter to lead its company-wide commitment to nurture people and talent. As Senior Vice President, Global Workforce, Helmstadter will report to the CEO and serve on DAI's seven-member Global Executive Team.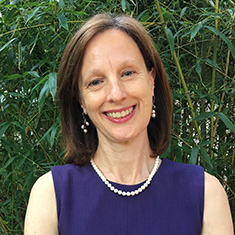 Helmstadter will have executive responsibility for maintaining and enhancing DAI's corporate culture; leading all aspects of talent acquisition, retention, development, and management; and ensuring the quality and efficiency of company-wide human resource operations.
"Being a great place to work has always been fundamental to our success as a company and our ability to deliver development results," said Helmstadter. "The COVID-19 crisis has only underscored the primacy of employee wellbeing, safety, and productivity. I'm excited to take on the issues most important to our global employees—through the pandemic and beyond."
Helmstadter joined DAI 13 years ago and has held leadership positions across the enterprise, including in business development, recruitment, and more recently as Vice President for the U.S. Government Business Unit's Africa portfolio and then VP for U.S. Human Resources.
All told, she has worked in international development for more than 25 years, with her first field assignment in Kazakhstan. She currently serves on the Board of the Society for International Development-Washington, D.C. Chapter, and participates in the Women Innovators & Leaders Network. She represents DAI at numerous industry and leadership events.
"Sarah is a trusted advisor and partner to leaders across DAI, and we are relying on her to excel in what is a critical function for our global development company," said DAI President and CEO Jim Boomgard.
x
RELATED CONTENT:
The U.S. Agency for International Development recently launched the Blended Finance Roadmap for Global Health to help agency units and other donors and partners attract investors for public health initiatives.
Read More