DAI Named USAID's Large Business Partner of the Year
July 12, 2018
The U.S. Agency for International Development (USAID) has named DAI its USAID Large Business Partner of the Year in recognition of the firm's work with small businesses in 2017.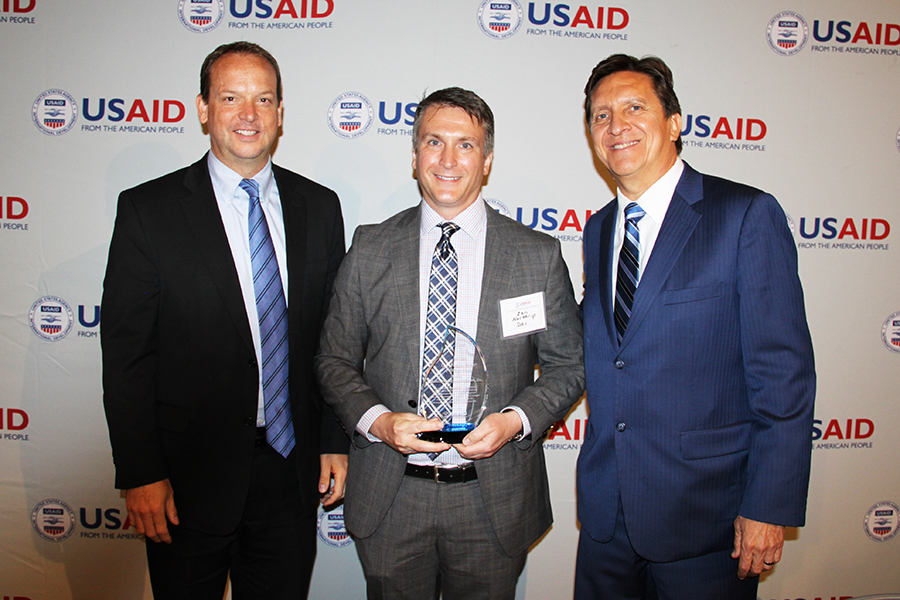 From left, USAID Acting Deputy Administrator David Moore, DAI Senior VP Zan Northrip, and USAID Office of Small and Disadvantaged Business Utilization Director Mauricio Vera. Photo: USAID.
USAID selected DAI based on its success in partnering with U.S. businesses as subcontractors, both domestically and overseas. Specifically, in FY 2017 DAI awarded $12.5 million of its subcontract dollars on USAID projects to small and disadvantaged businesses.
In making the award, USAID praised DAI's "significant utilization of small business contractors in critical roles in the implementation of USAID programs. Your firm's commitment serves as a great example in partnership and mentorship for the development and growth of small businesses."
DAI received the award yesterday at USAID's 11th Annual Small Business Conference in Washington, D.C. The conference enables small-businesses to meet with USAID and its implementing partners to learn about federal contracting and working with USAID and its Missions. USAID Acting Deputy Administrator David Moore made the presentation.
"We are honored to win this award," said DAI President and CEO Jim Boomgard. "Partnering with the right small businesses enriches our proposals, strengthens our technical work, and introduces new ideas and approaches into the DAI bloodstream. We put a great deal of thought and effort into our small business engagement program, and it is gratifying to see it recognized in this fashion."
DAI actively courts and supports emerging enterprises through initiatives such as its small business fairs and Innovation into Action Challenge. Through these and other initiatives, DAI has discovered partners such as ThinkMD, ClickMedix, and MobileODT, and awarded prizes to up-and-coming firms with innovations that address economic and social challenges in developing countries. DAI was one of the first USAID implementing partners to participate in the Agency's Mentor-Protégé Program, has been honored by the U.K. Department for International Development for its treatment of subcontractors, and in 2016 was named Prime Partner of the Year by the Montgomery County Chamber of Commerce—an award designed "to recognize a prime contractor who demonstrates excellence in sub-contracting and support to small businesses to accelerate their success."
x
RELATED CONTENT:
Chiantla, a municipality of 98,000 people in the Western Highlands of Guatemala, has won a "Best Use of Technology" award from the National Association of Municipalities for creating a municipal transparency mobile app designed to help citizens hold government accountable for delivering services.
Read More