June 29, 2022
DAI recently hosted members of Nigeria's financial technology ecosystem to discuss the direction of financial regulation and its potential impact on the sector. In the first Development Matters Roundtable since the pandemic, DAI's Nigeria office–in partnership with DAI's investment advisory arm DAI Magister–convened the discourse around a vision for a regulatory environment that accelerates growth and innovation in the burgeoning fintech sector.
The roundtable speakers included Winston Osuchukwu, Senior Vice President Distribution, Migo; Olufemi Sojinrin, Chief Information Officer, Nigeria Inter-Bank Settlement System Plc (NIBSS); Ayodele Adeyemi Faboya, Partner, Banwo & Ighodalo; and Musa Itopa Jimoh, Director Payments, Central Bank of Nigeria.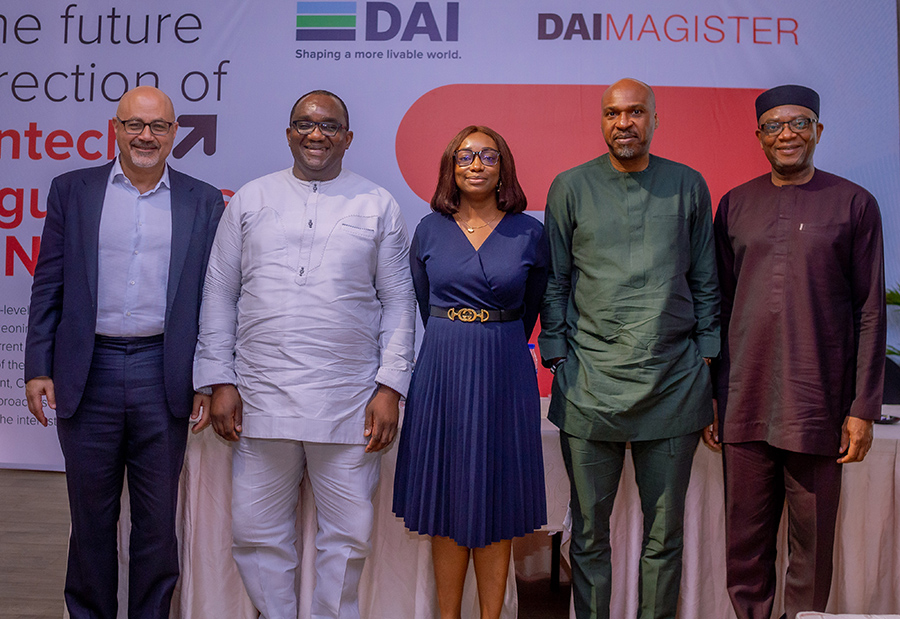 Victor Basta, Winston Osuchukwu, Ayodele Adeyemi Faboya, Olufemi Sojinrin, and Joe Abah.
In the keynote address, guest speaker Aishah Ahmad, the Deputy Governor of the Central Bank of Nigeria Financial Systems Stability Directorate, charted the evolution of financial institutions and the rise of digital banking in Nigeria. She highlighted how the sector has always been driven by the adoption of technology, leading to card regulations, internet banking, funds transfer, mobile banking, cryptocurrency, non-fungible tokens, and the eNaira.
She encouraged fintech operators to collaborate to help the regulator respond to the market in a way that allows the industry to thrive alongside sound regulatory oversight.
DAI Magister CEO Victor Basta moderated the panel discussion and highlighted various lines of inquiry, including the tension between the exponential speed with which fintech has grown versus the gradual adaptation of regulatory regimes. This led to discussions on models and approaches to prudent regulation in such an environment. DAI Magister has a track record of working with technology and tech-enabled companies, connecting investors to viable enterprises, facilitating their investments, raising capital, and providing investment advisory services. Recent deals supported by DAI Magister in Africa include the $65 million equity raise for CloudFactory, Baxi's purchase by MFS, $47 million raised for Cellulant, and $30 million for Twiga Foods.
"In filling this role–between regulator and industry–DAI is facilitating both accelerated development and private sector growth in emerging and frontier economies," said DAI Country Director in Nigeria, Dr. Joe Abah. "Through DAI Magister, we are able to facilitate private investments into national development."