October 03, 2018
DAI hosted a number of fundraising events throughout September to support the Linda Norgrove Foundation, which provides grants to organizations in Afghanistan that support health care and education for women and children.
The events—a Cocktail Hour, Yoga Workout, Penny Wars Competition, and our annual 5k Run/Walk—raised a total of $5,754. This year, we are grateful to local race sponsors Yoga District, La Madeleine, Honest Tea, Bethesda Chocolates, Bethesda Smiles, Bethesda Bagels, 3BMC Brookfield, and Greek Café.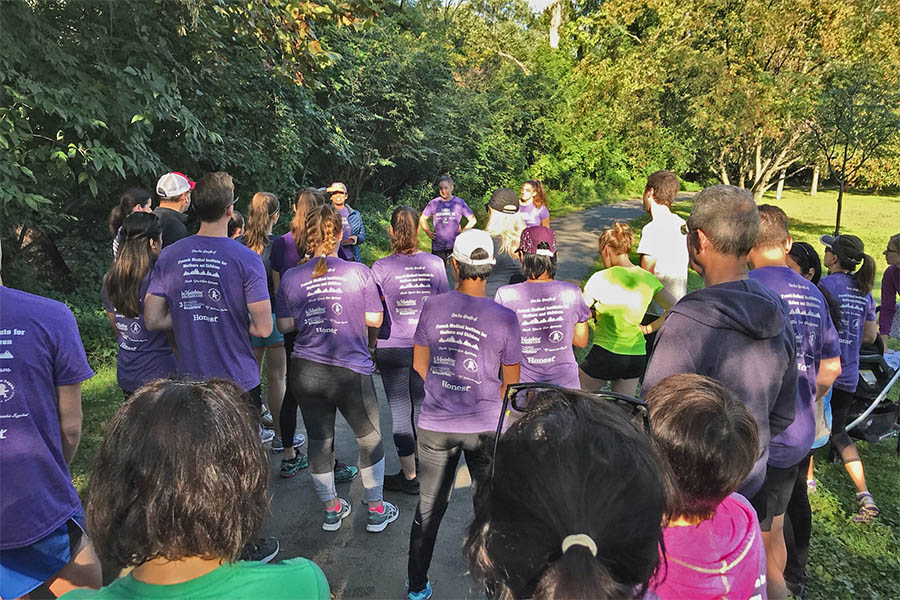 Participants at the starting line for the annual DAI 5-kilometer Fun Run/Walk to benefit the Linda Norgrove Foundation.
The foundation was established in honor of Linda Norgrove, a DAI employee who was kidnapped September 26, 2010, in Kunar Province, Afghanistan, and died October 8 during a rescue attempt. She was working on a program funded by the U.S. Agency for International Development to create jobs and strengthen local economies.
Operated by Linda's parents, a small team of volunteers, and one part-time employee in Afghanistan, the foundation has distributed £1.1 million to help women and children affected by decades of conflict in Afghanistan. Its grants have supported more than 100 projects, including orphanages for disabled children, homes for widows, education for girls, emergency medical care for abused women, local water projects, and scholarships for female medical students.
This year, DAI's donation will help cover the cost of surgeries and recovery care for eight disadvantaged girls and five women suffering from chronic medical issues, including cardiac, orthopedic, and gynecological disorders. The foundation will pay for the operations as well as transport, accommodation, food, and follow-up appointments, as all of the women and girls will travel from remote provinces to the hospital of the French Medical Institute for Mothers and Children in Kabul.
Every year in late September and early October, run/walks and other commemorative events are held in various countries to honor Linda and raise money for the foundation.