February 26, 2021
Guyana's Centre for Local Business Development—managed by DAI since its launch in 2017—recently hosted the 2021 Guyana Supplier Forum. Sponsored by ExxonMobil Guyana and the Stabroek Block Co-Venturers Hess and CNOCC, the virtual event provided a platform for Guyanese suppliers to learn about existing and upcoming opportunities for local businesses in the country's oil and gas sector. Attendees received up-to-date information on procurement processes, key contacts, and upcoming tenders from ExxonMobil Guyana and its Prime Contractors.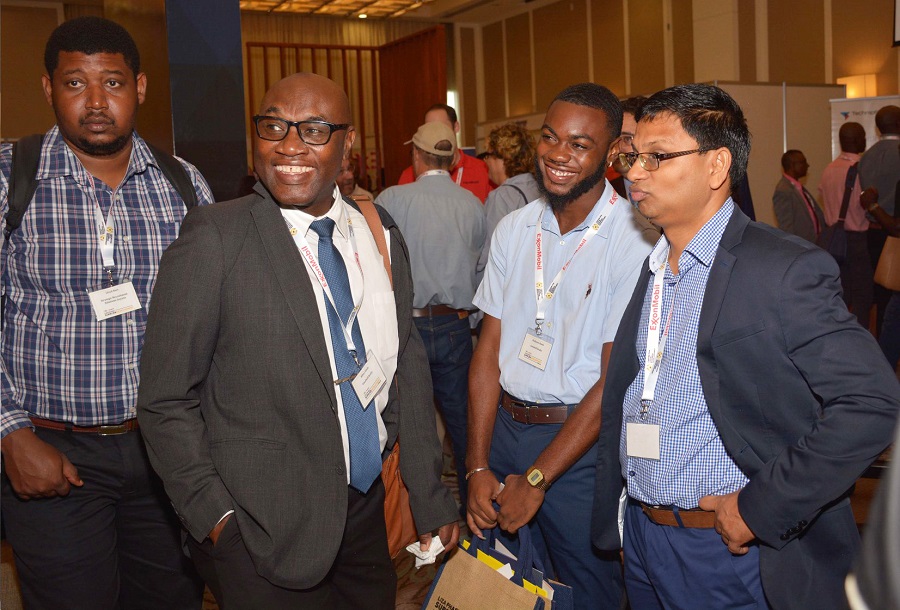 Participants network at a previous Guyana Supplier Forum. The 2021 event took place virtually.
Held from February 1-5, the Forum welcomed more than 700 local businesses. More than 400 businesses participated in a live Q&A session with ExxonMobil Guyana, Guyana Deepwater Offshore/SBM, Saipem, TechnipFMC, Guyana Shorebase Inc. (GYBSI), G-Boats, Schlumberger, Halliburton, Baker Hughes, Noble Drilling Services, Stena Drilling Ltd., and NABI-KCL. Presentations also featured Guyana's Ministry of Natural Resources, the Centre, and the Private Sector Commission.
"The Forum provided a great opportunity for Guyanese businesses to interact directly with ExxonMobil Guyana and its Prime Contractors. The Centre is pleased to have organized a successful virtual event and will continue to support local businesses in the coming year to reach their goals," said Centre Director Natasha Gaskin-Peters.
In his welcome remarks, ExxonMobil's Guyana President Alistair Routledge affirmed the company's long-term commitment to support socioeconomic development and uplift the quality of life in the communities in which it operates.
"We continue to work closely with our subcontractors and suppliers, investing time, people, and resources to qualify and develop local capabilities. Reliable and competitive local suppliers contribute greatly to the overall success of Guyana as an expanding oil producing nation," he said.
The 2021 Forum marks a unique year for the Centre, one that required adaptations in the face of the COVID-19 pandemic.
"Throughout the pandemic the Centre—while taking the necessary precautions—continued to provide its services and informational products online," said Dr. Gaskin-Peters. Dr. Gaskin-Peters added that "the Centre is gearing up to support the rapid pace of growth in 2021 through its innovative ISO 9001 and Health, Safety, Security, and the Environment (HSSE) Management System programs as well as expanding its business seminars and courses."
The Centre serves as Guyana's leading source for oil and gas business and industry information, professional development, and networking. Founded by ExxonMobil and managed by DAI, the Centre assists Guyanese firms to access opportunities in the oil and gas supply chain, which is poised to transform the small country's economy. To date, the Centre has registered more than 4,700 businesses in its Supplier Registration Portal, conducted 3,000 seminars, supported 700 oil and gas vendors, and delivered HSSE programs to 220 businesses.
To view recorded sessions and other information on the Forum, visit https://guyanasupplierforum.com.