January 20, 2022
The DAI-led Centre for Local Business Development (The Centre) has successfully completed its first women-focused entrepreneurship program, Accelerate-Her, in Georgetown, Guyana.
More than 90 women applied to the program. Of these, 35 were shortlisted to participate in an intense three-day Weekend Bootcamp on September 17-19 where they learned how to use the Business Model Canvas tool. The 35 were further evaluated, and 16 of these women joined the second phase of the program, representing businesses from the construction, cosmetology, education, garment manufacturing, janitorial, tourism, and other sectors.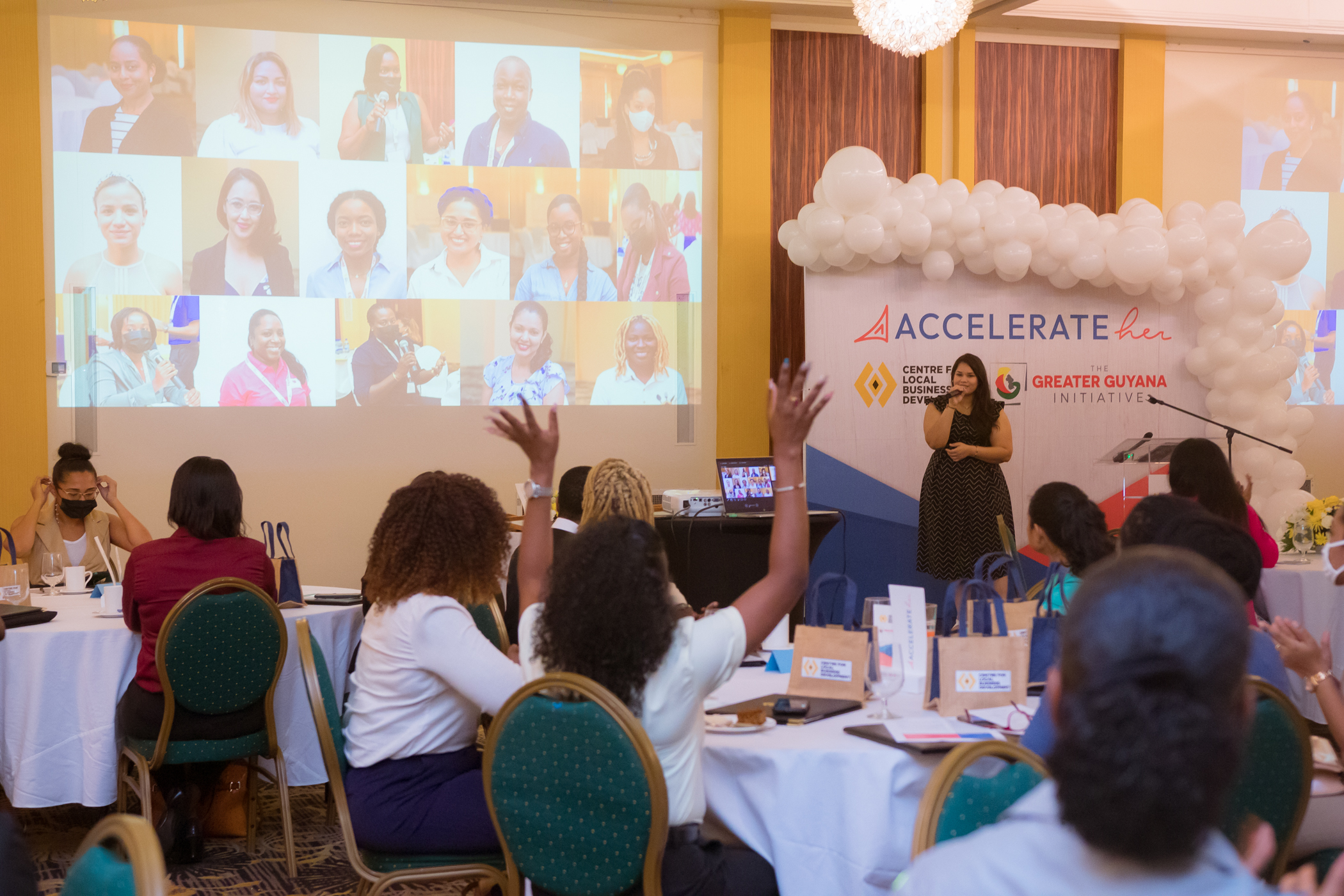 Nicola Balram, Communications Specialist and co-facilitator, introduces the entrepreneurs on Demo Day. Photo: The Centre for Local Business Development
Phase Two of Accelerate-Her was a nine-week program comprising one-on-one mentorship sessions, pitch presentation preparation, and in-person and virtual classroom experiences. The 16 participants were individually matched to a mentor and specific programs based on their business's needs. The training covered financial management, marketing, and pitch development.
In December, the program completed its final phase—Demo Day—an interactive showcase and expo. Demo Day participants presented their businesses' pitches and networked with buyers and possible partners. Financial institutions, business associations, government agencies, and private sector networks took advantage of the opportunity to learn from and interact with the entrepreneurs. The Women's Chamber of Commerce and Industry Guyana continues to play a pivotal role as a partner of the Accelerate-Her program.
"It was tremendous to see the growth in these female entrepreneurs and their businesses in a relatively short period of time. From the Weekend Bootcamp where many participants were mapping out their business model canvas or developing their pitch for the first time, to the end of the program where participants had a thought-out plan for growth and a strong business pitch presented at Demo Day," said Christina Aguila, Lead Analyst at DAI's Sustainable Business Group and co-facilitator of Accelerate-Her.
"The Centre's focus is capacity building for businesses in Guyana. We place a great emphasis on the role of women in business and programming that specifically targets building on the skills they need to make their businesses grow. Research shows that women-led and -managed businesses tend to generate broader social and economic benefits for their communities and future generations—this truly is a ripple effect in society," commented Natasha Gaskin-Peters, Director of the Centre and Senior Manager at DAI's Sustainable Business Group.
In December, the Centre also held its Health, Safety, Security, and Environment (HSSE) Management System Awards ceremony. The ceremony celebrated 25 Guyanese companies that completed the HSSE program by establishing an HSSE Management System in their businesses.
Learn more about the Centre for Local Business Development. Learn more about DAI's Sustainable Business Group.