Anand Varghese to Lead DAI's Center for Digital Acceleration
February 28, 2023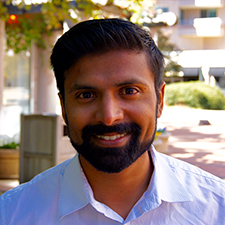 Anand Varghese has been named Senior Director of DAI's Center for Digital Acceleration (CDA). As the new head of the CDA, he manages an industry-leading team of researchers and policy analysts who help clients integrate digital technology into their work and strengthen digital ecosystems around the world. He also oversees a growing portfolio of digital-focused projects, including the global Digital Frontiers project.
"Digital is central to how we do development work with all of our clients," said President and CEO Jim Boomgard. "We decided to make a significant investment in digital more than a decade ago in light of the global boom in digital connectivity, but it is increasingly clear that digital acceleration has both enormous upside and possible pitfalls. I'm thrilled to have Anand Varghese and the CDA team leading our thinking around these issues."
Anand joined DAI seven years ago and most recently led CDA's Digital Advisory practice, where he worked with the U.S. Agency for International Development, the U.K. Foreign, Commonwealth & Development Office, and other clients to develop digital strategies, design and implement digital-focused activities, and train staff on the use of digital platforms for development.
Anand has also served as a technical advisor to the Kosmos Innovation Center in Accra, Ghana, where he helped young tech entrepreneurs develop digital solutions for the agriculture sector. He teaches a course on "Digital Development: Innovative Use of Technology in Emerging Markets" at the Johns Hopkins School for Advanced International Studies and sits on the 2022 Innovation Steering Committee of the Engineering for Change program.
"We know that digital technology has many positive outcomes," said Anand. "But it also introduces new risks that we need to mitigate as an international development community, everything from cybersecurity issues and socially divisive disinformation campaigns to gender and socioeconomic gaps in technology access and the potentially harmful applications of artificial intelligence. This challenge—mitigating risk while maximizing benefits—will be at the heart of our work in the years ahead."
Prior to joining DAI, Anand worked at the PeaceTech Lab at the U.S. Institute of Peace. He played an integral role in creating and launching the Lab, the Institute's first nonprofit spin-off in its 30-year history. Anand speaks regularly at international conferences and has authored studies on topics at the intersection of digital technology and international development.
x
RELATED CONTENT:
The U.S. Agency for International Development (USAID) has named two DAI-led projects as two of five winners of the 2022 Digital Development Awards (the Digis).
Read More