Pakistan's President Presents Award for Literary Achievement to DAI's Harris Khalique
March 27, 2018
DAI is pleased to announce that the President of Pakistan Mamnoon Hussain has conferred upon Harris Khalique the Presidential Pride of Performance award, one of Pakistan's most prestigious state-organized honors. Khalique was recognized for distinguished contribution to the field of literature and poetry. His citation also mentioned his role as a writer and campaigner in social movements for labor, women, and minority rights. The investiture ceremony was performed in Islamabad on Pakistan Republic Day, March 23. Khalique was among 73 civil awardees recognized from literature, arts, sports, medicine, and science.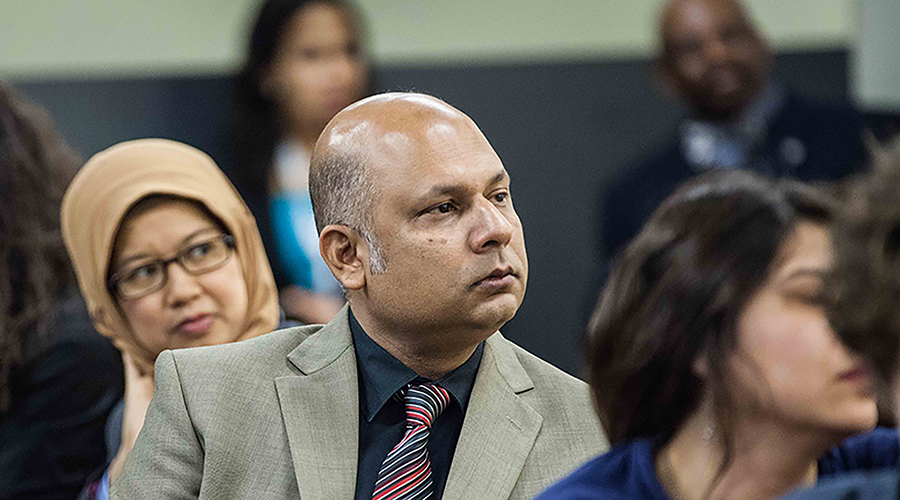 Harris Khalique, Team Leader of the AAWAZ Voice and Accountability Programme. Photo: U.S. Bureau of Educational and Cultural Affairs.
Khalique has worked for DAI since 2011, first as a consultant and since 2012 as Team Leader of the U.K. Department for International Development-funded AAWAZ Voice and Accountability Programme to promote civic engagement by marginalized individuals and communities. Among AAWAZ's accomplishments: more than 300,000 women have been registered as voters and received national ID cards; and more than 227,000 community members have been engaged at the grassroots, district, provincial, and national levels through AAWAZ forums. The program has affected 8 million disadvantaged people directly and another 2 million indirectly through interventions for increasing women's political participation, conflict pre-emption, and access to public services.
Khalique is a leading poet and author in the Urdu and English languages. He has published eight collections of poetry, one of which received the UBL Literary Excellence Award in 2013, as well as two works of nonfiction, including "Crimson Papers: Reflections on Struggle, Suffering and Creativity in Pakistan," published by Oxford University Press. He is also a University of Iowa Honorary Fellow in Writing.
x
RELATED CONTENT:
DAI condemns the murder of George Floyd, stands alongside the black community and all those who resist injustice, and avows that Black Lives Matter. And although words are important at this critical moment, we know that we must express this solidarity in actions as well as words.
Read More