November 18, 2015
DAI's Land Investment for Transformation (LIFT) programme in Ethiopia recently issued second-level land certificates to farmers for the first time at an event in Dejen Kebele, Emba Alaje Woreda, Tigray.
The six-year project, funded by the U.K. Department for International Development (DFID), seeks to improve the incomes of the rural poor and enhance economic growth through second-level land certification, improved rural land administration, and the development of land market systems.
LIFT will strengthen rural land tenure security and improve land holding rights of smallholder farmers across the highland regions of Ethiopia: Amhara, Oromia, Tigray, and Southern Nations, Nationalities and Peoples.
The event was attended by more than 1,000 farmers, with male-headed households, female-headed households, and married couples receiving certificates. By completion in 2020, LIFT is expected to have successfully registered 14 million parcels, which will see 6.1 million households receive land-holding certificates. During the event, 45 certificates were issued to married couples, single women, and single men.
High-level officials were present at the ceremony, including Firenesh Mekuria, the Federal State Minister for Agriculture and Natural Resources, Ato Berehe Fiseha, Manager of the Tigray Region Environmental Protection, Land Administration and Use Agency and George Turkington, Head of DFID Ethiopia. Turkington commended the teams for their hard work and congratulated them on being the first to issue certificates. Turkington also thanked the farmers of Dejen for their support and participation in the process. He encouraged farmers to invest in their land, to take care of it for themselves and their children, and for the future of Ethiopia.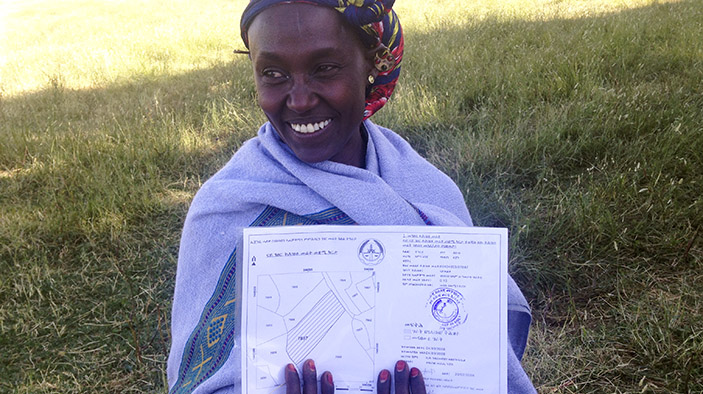 Awdatash, a woman living in Dejen, said she was present for each stage of the process, from demarcation right through to certificate issuance. She said the process was robust, particularly for women, who often face boundary disputes.
Second-level certification differs from first level by providing additional spatial data in the form of a parcel map. Rights holders will receive a hard copy of their certificate detailing their name and the names of other rights holders, information about the parcel including size, location, number, and a map. This information is also maintained digitally at provincial level. The introduction of a spatial component is expected to lower disputes and make them easier to resolve.
Messelu Selemon, another woman receiving her certificate, said it would reduce border disputes and improve security; give her proof of her land holding; and enable her to develop the land to improve her livelihood.
Despite the achievements made in reaching certificate issuance, the job is not done. To maintain the integrity of the land administration system, land information must be updated to ensure its accuracy. LIFT is implementing a computerized administration system to ensure transactions are recorded and an updated registry is maintained. The LIFT team will continue to raise awareness among farmers about the importance of this maintenance, without which the second-level certification process risks becoming redundant.