February 09, 2018
Ike Osakwe, most recently the Managing Director of GRID Consulting, has joined DAI's Board following the recent successful acquisition of GRID.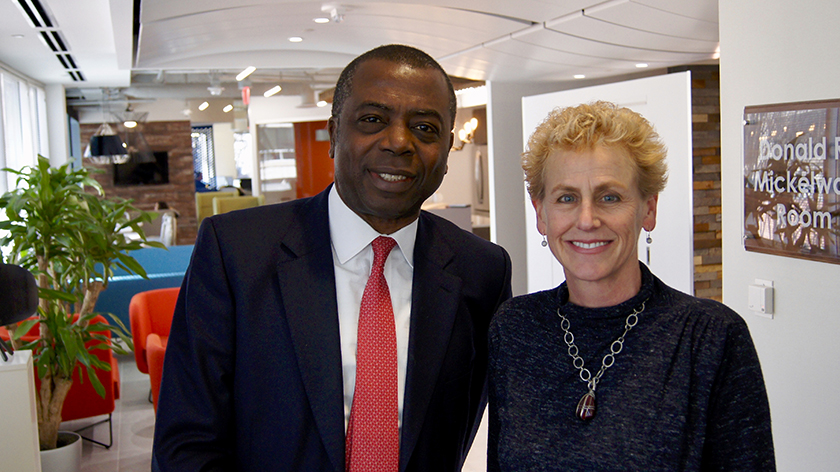 Ike Osakwe is welcomed by Betsey Nelson, DAI's chair of the Board of Managers.
Ike comes to the Board with more than 40 years of management consulting experience. Acknowledged as an expert in strategic and corporate planning, financial management systems, and public sector structures and processes, he has led corporate and organizational reform assignments throughout Nigeria and Africa.
"Ike is an important addition to the DAI Board," said DAI President and Chief Executive Officer Jim Boomgard. "As a global development company committed to serving a diverse array of clients all over the world, DAI will benefit from Ike's extensive board experience, his record of principled leadership, his intimate understanding of the public sector and commercial consulting field, and his strategic insights into Nigeria and the global trends driving development more broadly."
A champion of financial management systems as key to sustainable reforms, Ike sits on the board of a number of publicly listed companies in Nigeria and has served on several public commissions charged with improving the operations of government parastatals.
"I am delighted to be joining the Board of DAI," said Ike. "In Nigeria and in countries all over the world, we have a chance to make a real difference in people's lives, and I look forward to being a part of that process with the DAI team."
He is a chemistry graduate of Oxford University, and also a Chartered Accountant registered in both the United Kingdom and Nigeria.