DAI's Ian Rose Presents in Mozambique on Legal Reform in the Land Sector
March 13, 2018
Ian Rose, DAI's Senior Principal Global Practice Specialist for Land Tenure and Property Rights presented Monday at the CASP conference in Maputo, Mozambique. The annual conference highlights the country's investment environment and is hosted by the CTA (Confederação das Associações Económicas de Moçambique), the leading association of the private sector in Mozambique.
Among the more than 1,000 people in attendance were President Filipe Jacinto Nyusi, Prime Minister Carlos Agostinho do Rosário, Minister of Land and Rural Development Celso Correia, and Minister of Industry and Commerce Ragendra Berta de Sousa.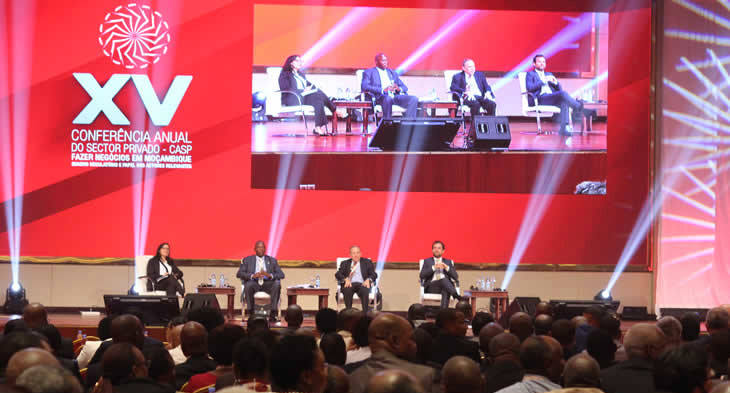 One of this year's themes was how to improve secure access to land for commercial development projects. Rose (third from left in photo) presented on potential market-oriented legal reforms in the land sector, highlighting proposals to streamline and facilitate transfer of land rights in rural areas. The conference was widely covered in the Mozambican press.
The U.S. Agency for International Development (USAID)-funded Supporting the Policy Environment for Economic Development (SPEED+) project supported the conference. One of the project's main goals is to support legal reforms in the land sector. Over the course of the first SPEED program, which DAI also led, SPEED successfully implemented policy reforms, resulting in increased trade and investment, a stronger competitive position for Mozambican firms, and more local job opportunities. SPEED+ works to further develop a favorable business environment to attract investment, expand markets, and reduce costs, thus contributing to broad-based and inclusive economic growth and conservation of natural resources.
DAI's Land Tenure and Property Rights practice works across all types of tenure systems—customary, private, and public—to strengthen the security and rights of land users by focusing on the reforms and capacity building that are appropriate in each context.
x
RELATED CONTENT:
DAI land tenure experts attended this year's World Bank Conference on Land and Poverty and presented recent work in Ethiopia, Ghana, Malawi, and Tanzania.
Read More